Epsom College Malaysia Review
Here's everything you need to know about Epsom College Malaysia. From course information and fees to rankings and student accommodation, get it all here!
Epsom College Malaysia Overview
"British Tradition, Global Learning, Universal Success" – these six words form the very pillars that make Epsom College Malaysia.
Epsom College was first established in the UK in 1855 by Dr. John Propert as a school that offered the necessary educational foundation for medical careers.
In the next few decades, Epsom established its position as a distinguished school for Science and Medical scholars with many of its students winning scholarships to attend medical school at Oxford and Cambridge. Since then, around 3000 Epsom graduates have entered the medical profession – evidence of Epsom's medical tradition.
Epsom College Malaysia is a fully-fledged branch campus of the UK Epsom College and it was founded in 2014. The Malaysian sister school is a co-educational day and boarding school located on a 50-acre campus in Bandar Enstek, which is about an hour's drive away from Kuala Lumpur.
Facilities on campus include football pitches built to FIFA and FIH specifications, a 25 meter swimming pool, squash courts, and more. 
The college follows the British National Curriculum, offering IGCSE and A Levels taught in English in addition to the option to study languages such as Bahasa Malaysia, Mandarin, and foreign languages. The quality of education at Epsom College Malaysia is up to par with the British campus.
The school has produced great results in 2020 examinations, with 70% A*-As for A Levels and 66% A*-As for IGCSEs. There are few other boarding schools which are able to compete with Epsom College Malaysia's exceptional results. The college's accomplishments do not just end at academics as Epsom also regularly participates in various sporting tournaments across Southeast Asia.
Pastoral care at the Malaysian Epsom campus follows the British tradition of the House system – students are assigned to Houses which ensures every student has good support from peers and adequate supervision from their Housemaster or Housemistress. Boarders at Epsom in Malaysia can expect to have the full British boarding school experience, which is an integral part of the college's ethos.
Epsom College Malaysia is truly the destination for quality British education in Malaysia. Established just over five years ago, Epsom College Malaysia has made great strides in its own right with outstanding academic achievements and quality pastoral care.
Epsom College Malaysia Courses And Programmes
Prep School
Epsom College Malaysia's Prep School welcomes students aged 3-11. The Prep School uses the UK National Curriculum as it is intended to prepare students for Senior School. Epsom's Prep School provides the solid academic foundation needed by the young students to excel in IGCSE and A Levels. 
Prep School students will undertake a broad range of subjects including:
English

Mathematics

Science

Technology

Computing

Art and Design

Physical Education

Music

Mandarin
Additionally, students have the opportunity to study a European language as part of their co-curricular programme. Students are encouraged to be active in extracurricular activities such as sports and the creative arts. The small class sizes ensure that every student receives the necessary supervision required to excel and reach their best potential. 
IGCSE
Students entering Year 10 will take between 10-12 IGCSE subjects. These subjects include five compulsory subjects and the rest are optional subjects. The compulsory subjects are English, Mathematics, Biology, Chemistry, and Physics. Malaysian students will have to take Bahasa Melayu as well. Optional IGCSE subjects include:
Art

Computer Science

Design & Technology

Geography

History

Music

Physical Education

Drama

Business Studies

Mandarin (native or non native)
A Level 
The college hosts an event every February for Year 11s to guide students in choosing the most suitable A Level subjects based on their aptitude and abilities. The core curriculum includes the Extended Project (EPQ) which hones the students' academic writing and research skills – these skills will prove invaluable for students that will go on to study in universities. A Level students are also assigned an academic tutor who will monitor their progress and work closely with students to achieve their goals.
Epsom College Malaysia Academic Results
Epsom College Malaysia achieved 70% A*/A for A Levels in 2020 with a 100% pass rate. According to Epsom, this has been the best set of A Level results the college has achieved so far.
Among the best subjects are Theatre Studies, Drama, and Further Maths, with all grades in these subjects achieving an impressive 100% A*/A. Epsom's 2020 A Levels cohort has also managed to score well in other subjects such as Chemistry, Mathematics, Physics, Art, and Biology, achieving between 60-90% A*/As.
The college also achieved exceptional results in the 2020 IGCSEs, with 66% of all grades being A*/A. Epsom students taking Music and Mandarin as a Second Language managed to score 100% A*/As. Epsom College Malaysia appears to have a strong niche in languages, as its 2020 IGCSE students managed to score over 80% A*/As in Spanish, Mandarin – Foreign Language, and Malay.
Epsom College Malaysia Entry Requirements
Entry Points (Age)

Requirement(s)

3+

No entrance exams required

6+

Entrance exam
Reference from current school
Admissions interview

16+

Reference from current school
Admissions interview
Minimum academic results: 7A*/A grades at iGCSE or 7 A+/A grades at SPM
Applicants may apply from any year of entry, however, the college strongly discourages entry into Years 11 and 13 as these are examination years.
Upon the submission of applications, the college's admissions committee will scrutinise the candidate's application forms and school reports. Assessments are tailored to the candidates' ages and take into account their educational backgrounds. Candidates can expect to receive an outcome in writing after completing the college's assessment within seven days.
Epsom College Malaysia Term Dates and Application Deadline
There are three terms in a year which begins in late August and ends in early July of the following year. The college holds Open Days at the start of each term.
Registrations should be made well in advance before the applicant's entry year. The college discourages applicants from entering in Years 11 and 13 as these are examination years. The college staff will advise parents on the best year group for their children. Entrance exams are held between March to April or September to November for candidates.
Epsom College Malaysia Fees
Fees stated are per term basis.
| | |
| --- | --- |
| ACADEMIC TUITION FEE | TERM FEE (RM) |
| EYFS | 17,302.00 |
| Year 1 | 20,958.00 |
| Year 2 | 23,620.00 |
| Year 3 – 6 | 25,395.00 |
| Year 7 – 9 | 29,045.00 |
| Year 10 – 11 | 30,675.00 |
| Year 12 – 13 | 31,345.00 |
| BOARDING FEE | TERM FEE (RM) |
| Year 7 – 13 | 16,800.00 |
Application fee: RM 1,000*
Enrolment fee: RM 20,000*
* These fees are a one-time charge and non-refundable.
Students taking English as an Additional Language will be levied an additional RM 3,000 per term. Tuition and Boarding Fees are payable before the start of each term. Tuition fees include textbooks, exercise books and meals. Epsom College Malaysia also requires a tuition deposit equivalent to fees for one term.
Epsom College Malaysia Reviews
"My daughter Adriana is in Year 4. I've seen tremendous changes in my daughter, not only in academics, (but) sports as well. (From what) I've seen in the past four years of my daughter's progress, I think she will go far in her future. And that's the reason why I'm giving Epsom a ten out of ten."
"I have a sixteen year old daughter, (…) Jordan, she's currently in Year 12. I need to highlight the fact that in Epsom, she was able to demonstrate and grow in a leadership position. She was (able to) hone her creativity. At Epsom, there were ample opportunities for her to perform."
"I have a son in Year 11 in Epsom. My son's always been quite good at sports and he gets huge opportunities here to do that. But also with things like the Inter-House Choral Competition, he got a chance to sing, which is not something he would normally do and he really enjoyed it."
"Student-centric environment with good pastoral care & dedicated teachers who are experienced in their expertise."
"My kids are doing great thanks to Epsom!"
Epsom College Malaysia Pastoral Care & Accommodation
Every pupil at Epsom is assigned to a House. This is based on the British House tradition and it ensures that every student gets good support from their peers and adequate supervision from a Housemaster or Housemistress, along with other House staff. The House system is effective in ensuring a smooth transition for new students into the school and become fully integrated into student life at Epsom. There are currently three boys' Houses and two girls' Houses.
The college also provides counsellors and a medical centre, looking after students in both mental and physical health. Epsom's dedicated staff are driven to ensure students could feel safe and supported in school. 
One of the more unique features of the school is how it features students' voices. Students are encouraged to be involved in the School Council. The Headmaster also regularly meets with senior student leaders to ensure that the students' expectations and needs are met – this also empowers them to take ownership of their experience as an Epsom student.
Diversity is one of the key pillars of the school. Epsom has around 400 students who are of over 20 nationalities. The school celebrates international festivities and strives to ensure that every student feels at home at Epsom.
Epsom College Malaysia Co-Curricular Activities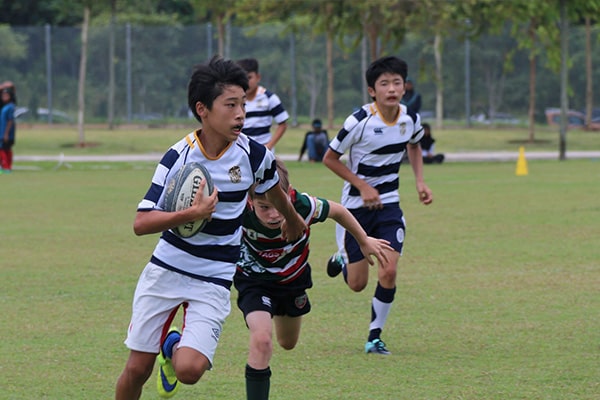 Sport
Epsom College Malaysia strongly encourages their students to take on sports. The school offers a wide range of sports and offers competitive and recreational opportunities for students. The school holds Inter-House tournaments and trains twice a week. Facilities available on campus include football pitches built to professional specifications, a 25 meter swimming pool and squash courts. Students can choose to participate in a wide range of sports such as:

Badminton

Squash

Hockey

Tennis

Swimming

Volleyball

Golf

Ultimate Frisbee

Yoga

Table tennis

Zumba

Climbing

Softball

Rounders

Boxing

Brazilian Jiu Jitsu

Cycling
Creative Arts
The Creative Arts are one of the school's academic strengths, but it is also an important part of the school's extensive co-curricular programme. Events such as the college's Inter-House Choral competition encourages students to take risks and grow creatively. The school offers the following activities:

Dance

Design & Technology

Drama

Music

Photography

Art
Service, Community, Leadership
Education at Epsom College Malaysia goes beyond the classroom – important community values are instilled in the students through their community-oriented service programmes. Older students can sign up for the International Award which allows them to sign up for voluntary service in hospitals and care homes, participate in environmental conservation projects, or sign up for first aid and lifesaving training, among many other activities.

Additionally, Epsom College is a Round Square school – this is an internationally diverse network of schools that promotes the spirit of collaboration, character development, and exchanging ideas. Many Epsom College Malaysia students have participated in local and international conferences as part of Round Square which has forged many friendships, fostered community building, and developed an international understanding between its diverse participants.
Cultural Events
Epsom celebrates diversity as it is one of the main pillars of the college. Every year, the college holds the two-day Epsom Edge Performing Arts Festival which showcases performances from its pupils as well as visiting schools and professional performers.

Epsom College Malaysia Contact Information
Apply For Epsom College Malaysia
If you would like a free consultation on any step of the application process, contact us today or come visit us at our office in Mont Kiara, Kuala Lumpur. Book an appointment with us now!