Cheltenham Ladies' College – UK Boarding School Review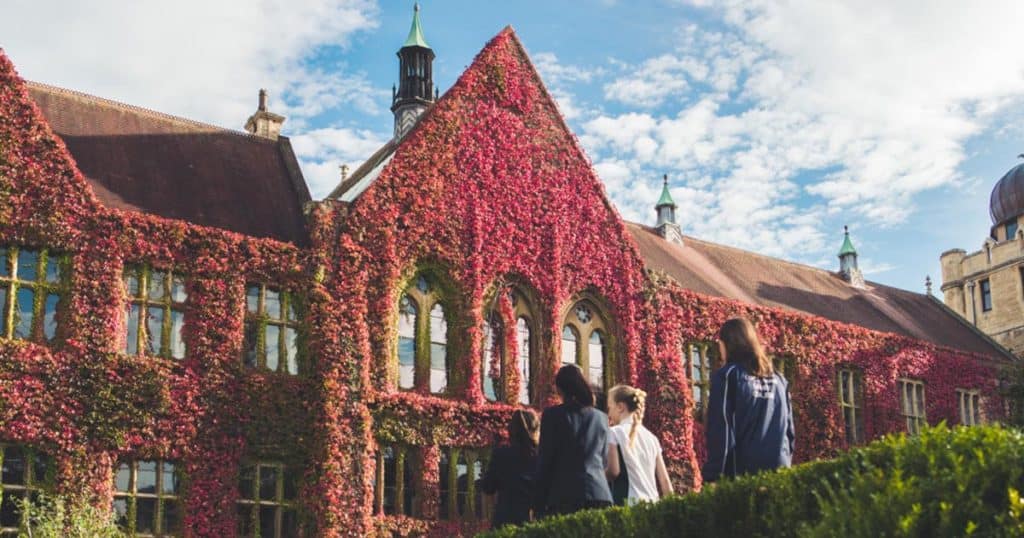 Type of school: Girls
Age range: 11-18
Pupils: 876
Boarders: 80%

Fees: £13,950 to £15,650 per term

2022 A Level Results: 76.7% A*/A

2022 GCSE Results: 92.2% A*/A

2022 IB Results: 41.6 Point Average
Preparing Ladies for the world
Founded in 1853, the school was established as a place to provide a "sound academic education for girls". Starting with 82 students then, the school now has over 800 pupils at a time. In 1858, the school saw its most influential principal to date, 27 year old Dorothea Beale, a suffragette who pioneered women's education in a time when learning biology would deem women unmarriageable. Under the direction of Dorothea Beale, who would devote the next 50 years of her life to the school, Cheltenham Ladies' College (CLC) became a symbol of revolutionising women's school education. In 1873, the school moved to its current location, the site of the original Cheltenham Spa. The school has since grown from a boarding house, the Lower Hall, and a few classrooms, to the sprawling campus it is today.
Curriculum
Academic excellence forms the basis of CLC, with much care and attention devoted to the planning and resourcing of the school's academic programmes and facilities. The school has over 120 full-time teaching staff, and a further 40 part-time teachers, as well as 40 music and drama teachers.
In Lower College, girls study separate Sciences, Computing, Humanities, Philosophical Enquiry, and a Language Acquisition course, which builds a foundation for the girls in Upper College, where most girls take 10 GCSE subjects. Girls also have a range of options in terms of the subjects they take, though a minimum of two Sciences and at least one Modern Language is recommended. Post-GCSE, girls have the option of opting for their A Levels, or joining the International Baccalaureate Diploma Programme.
Extracurriculars
CLC places a strong emphasis on each girl striking a balance between academic and co-curricular activity, and offers over 170 activities for the girls to find their niche. However, music and drama play a large role at CLC, with opportunities for all students who wish to perform, as the school holds concerts and lunchtime recitals. The jewel in the school's crown is actually its arts centre, located just across the main school on Parabola Road. Aptly named the Parabola, the arts centre features a 300-seat theatre, dance rehearsal rooms, and a small gallery. The gallery itself is primarily for the school's use, though it does host public shows and exhibitions as well. The school often sees the presence of artists and writers in residence as well, who make use of the arts building.
CLC also holds to a strong tradition of charitable volunteering and fundraising, with the girls nominating and voting for four charities to support each year, alongside the charity established by CLC alumnae, called St Hilda's East. In Cheltenham itself, girls are often seen helping out at homeless shelters, animal sanctuaries, primary schools, and retirement homes.
In terms of sports, physical activity is compulsory for all girls. The school recently added a new health and fitness centre to the campus, allowing sports such as hockey, tennis, and lacrosse to be played all year round. The school has also seen achievements in athletics, tennis, skiing, riding, and netball. Girls have also been making it to the national finals in hockey, swimming, and riding. For the less sporty, zumba and pilates are offered as well.
Atmosphere
CLC's campus is located in the heart of Cheltenham, a town with much to offer, from its graceful architecture and history, beautiful public gardens and diverse shops, to the sheer cultural diversity offered by the annual Cheltenham Festivals programme.
The campus also features beautiful surroundings, with Victorian Gothic creeper-clad grandeur among concrete modernism, with Dorothea Beale's legacy of waning her girls to learn in surroundings that are as beautiful as the boys who had been favoured for centuries.
Boarding and discipline
CLC is an independent boarding and day school. Parents praised the pastoral care, be it for the boarders, who are split into houses of 60 girls per house, or day girls, with the house-mistresses noted as being responsive and contactable. Any incidents, such as friendship issues or bullying, are nipped in the bud very quickly. Houses, most of which are substantial and Victorian in design, are scattered in nearby leafy residential roads. Some houses are quite a hike away, which makes sensible footwear a must.
Girls do bring their own laptops, but internet use is heavily monitored, with social networking sites only open to those from year 9 onwards outside of school hours. An open library (with wireless access) means that girls are able to come and go freely to peruse its contents, though house-mistresses and academic tutors do liaise to avoid girls pushing themselves too hard, with staff in the library keeping an ear out for any late night working.
With that being said, the school introduced a whole-school wellbeing programme in 2015, complete with sessions in healthy lifestyles, coping with stress, study skills, self-defence and mindfulness. The school also meets every day in Princess Hall for prayers.
Cheltenham Ladies' College 2022 Results
Cheltenham Ladies' College have achieved great results in the A Level, GCSE, and IB examinations. In 2022, Cheltenham Ladies managed to achieve the following results: 
2022 A Level Results: 76.7% A*/A
2022 GCSE Results: 92.2% A*/A
2022 IB Results: 41.6 Point Average
CLC managed to rank 14th in the country in our 2021 A Levels League Table and 5th in the country in our 2021 GCSE League Table! This makes CLC among the top 15 schools in the country. The school has yet to be added to 2022 league tables.
Their achievements at all three public examinations this year are keeping with their five-year average which sits at around the same percentages. This is a very great indication about how well the school has managed disruptions caused by the pandemic and still manage to maintain their high standards in education. 
Their past results have also been excellent. In 2021, Cheltenham Ladies College achieved 84.3% A*/A in the A Level examinations, which is an increase from their previous achievement of 71% A*/A in 2019. Additionally, the college has achieved 96.1% A*/A in the GCSEs which is an improvement from their 2019 results which was 90% A*/A. Cheltenham also achieved a 42.7 point average for IB in 2021, an improvement from its previous achievement of 39.3 point average.
Cheltenham Ladies' College Reviews
I'm a boarder and I'm always surrounded by friends. We support each other and help each other. It's this interdependence that really makes boarding so much fun and so special.
Cheltenham Ladies' College (CLC) is very good at producing well-rounded prototypes and its method of teaching is productive for those girls who are less independent in their academic approach. Class size ranged from about 15 in younger years to not more than about 10 in sixth form. The faculty were very hands on and accessible, though the limit of their skills were exposed with reference to the more independent students as discussed above. Work load was fairly high in sixth form, but never unmanageable.
It's not always academic (at Cheltenham), there's lots of fun activities and wellbeing and it's really exciting.
I think there is something to be said about how willing the teachers are to go above and beyond what's required of them as teachers just to support the students and to make sure you understand and that you're okay.
Cheltenham students are known to be well-rounded, dynamic and capable. A lot of this is due to the great support that we have at CLC. There is this really positive culture where we support each other. The classes are small too, so we get to know each other pretty well. The teachers here are great and I owe them my successes!
Get A Free UK Boarding School Education Consultation Session