Clifton College Guide: Reviews, Rankings And More
Clifton College Bristol was founded 150 years ago by Bristol businessmen. The first Headmaster – Dr John Percival – led the school with the belief in science, education of women and racial inclusivity. The school encourages pupils to explore different intellectual interests beyond pure academics. The school is proud of its two of the most extensive school libraries: the Percival and the Stone with rare collectables such as the 1st edition of Isaac Newton's Principia Mathematica.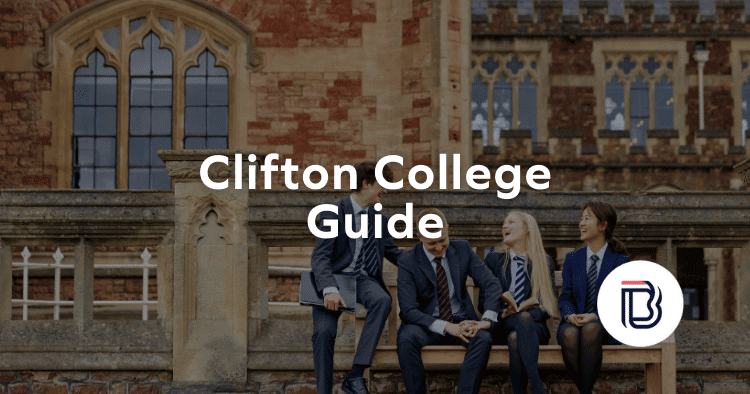 Type of school: Co-educational

Age range: 2-18

Pupils: 786; sixth formers: 335

Fees: Day £29,670 – £30,135; Boarding £40,230 – £46,440 pa

2023 A-Level Results: 47.7% A*-A
2022 GCSE Results: 69% 9/7
Clifton College Bristol was founded 150 years ago by Bristol businessmen. The first Headmaster – Dr John Percival – led the school with the belief in science, education of women and racial inclusivity. The school encourages pupils to explore different intellectual interests beyond pure academics. The school is proud of its two of the most extensive school libraries: the Percival and the Stone with rare collectables such as the 1st edition of Isaac Newton's Principia Mathematica. 
One of Clifton College's proudest achievements are the number of Nobel Prize winners who are Old Cliftonians. This is the result of the Science School with the Stone Library of 5,000 scientific books as well as plenty of scientific equipment and skillful staff. Some of the academic high achievers that came from Clifton are Sir Henry Newbolt, pioneering computer designer John Pinkerton, LP Hartley, scientific Nobel prize winners, mathematicians, philosophers and engineers, of whom WO Bentley is the most eminent.
About 85% of Cliftonians go to their first-choice university. Oxbridge is a popular destination with around 6.5% of Cliftonians attending the two universities.  In 2020, 8 Cliftonians attended Oxbridge. Other popular choices are Cardiff, Edinburgh, Exeter and the London universities. Some went to art foundation and overseas universities such as Yale, Florida State, UCLA, Arizona State and Hong Kong in 2020. Three pupils went to Medical universities in the same year.
Some of Clifton College alumni include actors Trevor Howard and Simon Russell-Beale, comedian John Cleese, inventor of the Belisha Beacon Leslie Hore-Belisha, General Douglas Haig, journalist John Inverdale and GB Hockey player Lily Owsley, whose team won gold in the 2016 Olympic Games.
Clifton College Courses / Programs
Clifton College offers both A-Levels and GCSE. 
In 2020, 70% of the pupils achieved 9-7 at GCSE and 80% achieved A*-B at A-Level. In 2019, 62% of the pupils got 9-7 at GCSE and 71% got A*-B. Ancient and modern languages are the best performing subjects in both GCSE and A-Level thanks to their early focus. Pupils can choose Latin and/or Greek as a third language. 
For Sixth Form pupils, there are 39 subjects and some BTec options to choose from. The most popular subjects for Cliftonians are Maths, the Sciences, and Humanities. Besides the 4 academic subjects, Cliftonians are also encouraged to take on external options in Sector E: BTecs in IT, teamwork, personal development, a performance certificate from LAMDA and a non-examined photography course among other things. 
Clifton College has recently joined the Bristol Educational Partnership with exciting projects such as inter-school climate challenge, interschool debating and a project to develop oracy skills (speaking and listening).
Clifton College Application Deadline
The application process can start as early as three years preceding the regular open days. Interested applicants will take a pre-assessment in Year 7 and academic testing in Year 8. Application dates vary so it is recommended to contact us for the latest information.
Clifton College Rankings And Results
In 2022, Clifton College students achieved 54% A*-A at the A-Levels and 69% 9/7 at the GCSEs.
In 2016, Clifton College was ranked among the top 30 of the top 100 co-educational independent boarding schools in the UK. In 2020, 80% of students scored A*-B for A-Levels and 70% of students scored 9/7 for GCSEs.
Clifton College Fees (2023-2024)
Pre-preparatory School
A standard school day runs from 8:30 am to 4 pm. Year 3 pupils receive care from 7:30 am until 6 pm every day included in the fee along with drop off, breakfast, clubs and activities as well as some light tea during the afternoon session. All-round care must be pre-booked a week in advance.
Year group
Fee per term

Reception

£4,100

Year 1

£

4,330

Year 2-3

£

4,760
Preparatory School

The fees cover all the teaching during the course of education. In Prep and Upper School, this also includes all the expenses of practical work in the science laboratories, art, design and technology except for breakages due to carelessness. There would be additional charges associated with House, co-curricular and other activities, and the cost of providing lessons for Learning Support and English as an additional language. Public examination fees including remarking and other reasonable charges are also to be expected.
 
Year 4 to 6
Years 7 and 8

Boarder (7 nights)

£

9,980

£

11,825

Flexi-Boarding (3 nights)

£

6,730

£8

,490

Day Pupil

£

5,435

£7

,105
HM Forces Discount
Clifton College offers a 20% Forces Bursary for the sons and daughters of serving members of HM Forces for pupils of Year 4 onwards.
Upper School
The fees cover all the teaching during the ordinary course of education, including all the expenses of practical work in the science laboratories, art, design and technology except for breakages due to carelessness for Upper School. In Year 12 and Year 13, there will be additional charges for textbooks for the examination subjects. Other extra fees are similar to the Prep school.
 
Years 9-11
Sixth Form
 

Boarder (7 nights)

£14,875
£15,480
 

Flexi-Boarding (4 nights)

£

13,410
£13,915
 

Day Pupil

£

9,890
£10,045
 
*There is a supplemental fee per term for pupils who join the Sixth Form from other schools.
Other Fees
Registration Fee & Deposit
The registration fee (non-refundable) is £150 at entrance. An acceptance deposit of one term's fee is then required from all pupils except for those moving from Clifton College Pre-Prep to Prep School or Prep to Upper School. For Upper School participants, the deposit for non-EU-resident pupils is £11,000.
Non-UK pupils also need to pay £295 for the UKiset exam that includes registration, arrangement of a test date, invigilation fees, and results being sent to the candidate. All overseas pupils are also required to have a guardian.
Flexi-boarding and Occasional boarding for Prep and Upper School
The flexi-boarding option will enable your child to board for up to 4 nights each week, including both week days and weekends.
Occasional boarding for Day and Flexi-boarding pupils is available on request for £54 per night.
Extra Tuition
Private tuition for English as an additional Language, Special Education Needs and subjects outside of the curriculum are available at £55/hour.
Family Member Discounts
For parents with more than two children at the College, excluding the Nursery, there is a 5% deduction for the 2nd younger child, 20% for the 3rd child and 50% for the 4th child and any subsequent children during their simultaneous attendance. This discount is subject to annual review. 
Fees in advance scheme
In return for a lump sum payment, the College offers a credit to be applied against each term's fee invoice for a set number of terms.
Clifton College Holiday Club
There are also Minis' Club activities for 3-16 years old pupils. The club is open from 10 am to 4 pm with Early Drop service from 8 am and Late Stay until 6 pm.
Clifton College Entry Requirements
Nursery to Year 3 (ages 2 to 7)
Future Year 1 to Year 3 pupils need to visit Clifton for a half-day informal assessment. This will include an assessment of Literacy and Mathematics as well as some time in the classroom with their current peer group. The minimum entry requirement is the average standard level of attainment for the age group. 
Year 4 to 8 (ages 8 to 12)
Interested candidates will sit for the school's online academic entrance assessments that cover English, Maths and Non-Verbal Reasoning. The minimum requirement is the average national Standard Attainment Test level for the age group with reference from the National Curriculum stages of attainment.
Overseas pupils applying for Year 6 to 8  will need to sit for the online UKISET aptitude tests and attend a face to face interview (via Skype if they cannot visit Clifton). The same minimum requirements are applicable. 
Clifton College Prep School applicants of all stages are required to provide a reference from their current school.
Year 9 to 13 (ages 13 to 18)
Applicants to Year 9 of Upper School from the Preparatory School will attend either the Year 8 Transfer or Scholarship examinations in the Summer term preceding entry. Applicants from other prep schools normally attend welcome visits and register in Year 5 and 6. Then they will take a pre-assessment during Lent Term in Year 7 based on an interview and school references. If successful, they will receive an offer for a place then. 
Year 8 applicants can sit for a Common Entrance exam in the Summer Term, offer their own prep school Baccalaureate or sit for the Common Academic Scholarship examination in early May preceding entry. 
Overseas applicants for Year 9 to 11 need to take the online UKISET aptitude tests, which replaces the written papers in Maths, English and Science. The same minimum requirements are applicable. 
Interested candidates for Year 10 will follow the school's own testing procedures, which include entry tests in English, Maths and Science. Some exceptional cases can join in Year 11.
To enter the Sixth Form (Year 12), all candidates must achieve 3 A grades (Grade 7 and above in the new grading system) and 3 B grades (Grade 6 in the new system) at GCSE. Entries are assessed by entry tests and interviews in two potential A Level subjects and for overseas pupils, an  English Language paper.
Admission to the Upper School requires a reference from the current school. The prospective pupil will attend an interview with the Director of Admissions usually at Clifton or online if necessary.
Clifton College Scholarships
There are scholarship options for applicants from Year 4 onwards in Clifton College.
There are 11+ Scholarships available for entry to Year 7 in Academic, Music and Sports. The tenure of Academic and Music scholarships will extend until the end of Year 13 as long as satisfactory academic performance is maintained. The tenure for 11+ Sports Scholarship will extend until the end of Year 11 or Year 13 based on the applicant's performance at the 13+ Sport Scholarship assessments. 
Pupils who missed out or were unsuccessful at 11+ Scholarships for Academic, Sport or Music can enter for the 13+ Scholarships at Year 13. There are additional scholarships for Drama and Art as well.
"My brother went to Clifton and absolutely loved it there. My son is currently there following his uncle's footsteps and loves it too… I am sure my nephew will follow suit… Fantastic school."
"I loved my time at CC, having being at boarding school since I was 8. I learned how to fence & later was coached by Team GB! There is much more to learning than mere grades, which are certainly important but consider your child's future…I made fantastic friends there, I'm sure your child will too!"
"My son is third generation Cliftonian in our family. We absolutely love this school and my son is very happy there. The sports facilities are one of the finest in the UK!"
Clifton College Accommodation
Clifton College provides Upper School boarding students with seven boarding houses: 4 Boys' Houses and 3 Girls' Houses. Each House has their own motto and spirit. The pupils share a home with a Housemaster or Housemistress and their family, an Assistant, a resident tutor and sometimes a pet. Each House also has up to five non-residential tutors. 
There are many weekend activities and trips for boarders. There are many house sports for boarders to attend such as football, rugby, cricket, running, basketball, water polo, etc. Sundays afternoons can be occupied with trips to go-karting, Bristol rugby matches, paintballing, football matches, and bowling.
During weekends, full boarders can go out with parents or guardians unless they have commitments to fulfill. Boarders can also go home to a guardian outside of the official quarter and half-term breaks after any commitments on Saturday and return on Sunday evening. Prior arrangement is required. Hower, most boarders stay throughout the weekend.
Clifton College Student Services and Extracurricular Activities
Pastoral Care
Clifton College staff are members of the pastoral team in individual houses and have duties besides teaching. There is plenty of medical staff who take care of both physical and mental needs for all students. The chaplain is an accredited mental health first aid trainer and there is one mental health first aider in each house. Sixth Formers also volunteer as mental health peer mentors. Students are free to discuss everything with their houseparent. Clifton College is the only school that requires visitors to read and sign a leaflet outlining the school's safeguarding guide before proceeding beyond reception.
Extracurricular Activities
Clifton College properly invests in its facilities to best serve its pupils' needs outside of class. Music and performance Cliftonians enjoy the Redgrave – the second largest theatre in Bristol and the Joseph Cooper Music School. Meanwhile, Clifton College's sports ground is 'Beggar's Bush' – Bristol's biggest outdoor sports complex of 90 acres with all-weather and grass pitches, indoor tennis courts, a swimming pool and indoor courts for rackets, fives and real tennis as well as other event facilities. 
There are some unique options for life skill courses such as DofE practice, CCF and an eight-week survival course to make string and rope from animal sinew in the nearby Wales and Mendip and Quantock hills. 
The Arts
Music is terrifically developed here. The school produces a commendable number of Oxbridge choral, instrumental and organ scholars each year. Recently, the school had a student invited to join as a  member of the Royal Philharmonic – Julia Hwang. The Music School boasts a gorgeous recital hall, high tech recording and mixing facilities besides normal practice rooms. From orchestra, chamber groups to blues and swing, pupils can find all sorts of music here. There is also a compulsory hymn practice in chapel each Saturday morning for Sunday services which all pupils are encouraged to attend twice a term.
Clifton College is one of the first schools to have a theatre. The Michael Redgrave theatre hosts 40 productions per year for the public with recent shows including School of Rock, The Railway Children and Miss Saigon, besides the classic Shakespeare plays. There are also house dramas for pupils to attend. Dance activities are also abundant.
Although it has less exposure, Art in Clifton College is provided in the forms of compulsory courses revolving around exotic Islamic, Asian and Aboriginal art, among all others. There is a sculpture specialist and ceramicist on site. Students can choose either drawing and /painting or sculpture and/ ceramics for the A levels. There are plenty of museum and gallery trips for all. Some distinguished alumni in Art here are Bloomsbury art critic and artist Roger Fry, Peter Lanyon of the St Ives school and impossibly romantic painter Robbie Duff-Scott.
Two Cliftonians were nominated for the Rose Bowl Awards for Best Performer in a Youth Production for their roles in School of Rock. 
Sport
Clifton College is famed for sports is huge and famous. Clifton College cricket is popular in summer and winter gives time for rugby, regardless of gender. There are non-ball-game options to choose from such as aerobics, fencing, climbing in the nearby gorges – Avon or Cheddar – and water sports such as water polo, sailing and kayaking. 
Thanks to Clifton College sports centre, Cliftonians are no strangers to sport achievements. In 2019, the Clifton College rugby team successfully maintained their top 10 national position. The girls' hockey team achieved the top 8 and the U16 sailing squad won a trophy for the most improved team. One particular Old Cliftonian became the youngest Brit to travel the world solo and unassisted on his bicycle.
Clifton College Contact Information
Let us help you join your dream school.
Get a FREE consultation session with us.