University Of Cambridge Guide: Rankings, Courses, Fees And More
Founded in 1209, University of Cambridge is one half of the world-renowned Oxbridge, and is the fourth-oldest university in the world. It ranks among the top 10 in the world for academic reputation (QS World University Rankings) and the top 10 globally for teaching quality (THE World University Rankings). Read our complete guide and review of the University of Cambridge here.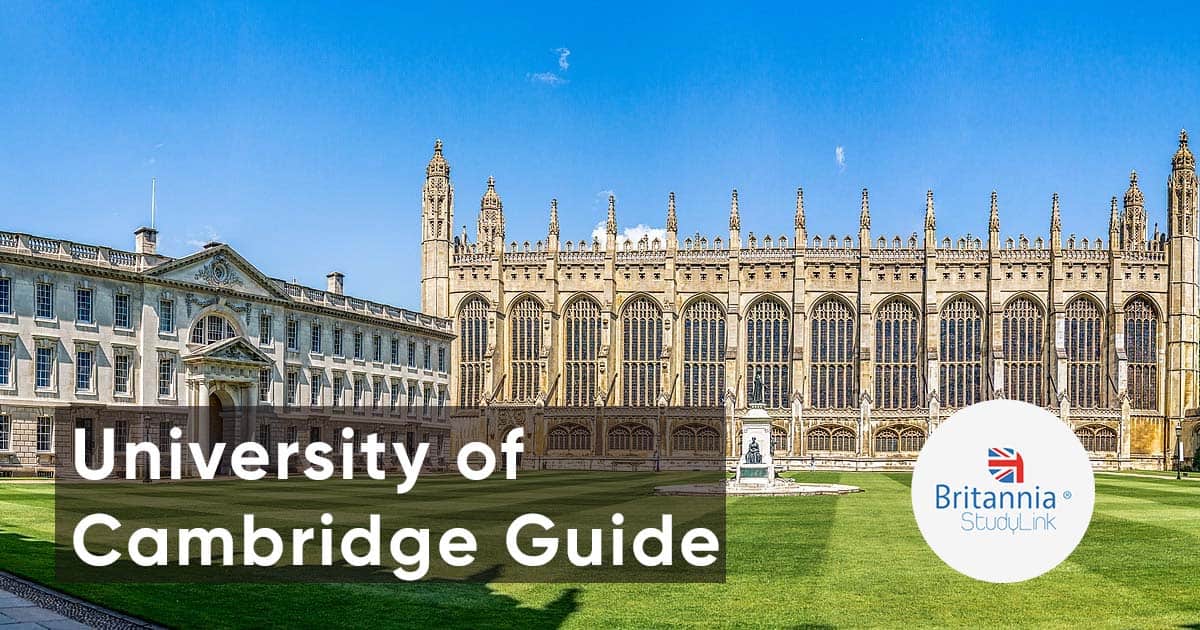 University of Cambridge Overview
According to 2023 rankings (Complete University Guide), 43 subjects offered at the university ranked among the top 10. QS World University Rankings had also placed Cambridge's best-performing faculties as the arts and humanities, engineering and technology, life sciences and medicine, and natural sciences and social sciences and management, which all ranked among the top five in the country.  
The wide variety of sixty-five subject choices gives students plenty of space to explore their intellectual interests. Students can choose to specialise in their niche in the later years of their course or start their major early on as they please. There will be plenty of academic opportunities, from huge lectures to seminars, classes and supervisions led by leading academic professionals, for them to explore their field of interest. The availability of external opportunities such as field trips and study visits also add to the rich academic experience that Cambridge students enjoy.
The university has an immense connection with partners in Asia, Africa, the Americas and Europe. These connections are the foundation for extensive research collaboration that brings incredible innovation. The University of Cambridge being strategically located at one of the world's most significant technology clusters also adds weight to its worldwide reputation in technological innovation.  
Cambridge graduates enjoy great prospects after graduation, with 93% of the Graduate Outcomes Survey respondents in work or further study within 15 months of graduating. Cambridge is also one of the top ten most sought-after universities by Britain's leading graduate employers according to the Graduate Market report in 2023. Cambridge graduates' most popular fields of work are medicine, software and programming, business and finance, and teaching and research.
Throughout its history, the university has built a massive network of more than 315,000 living alumni in over 147 countries worldwide. Some of them have made such a hallmark in the world that their names alone are enough to tell their stories – among them are Charles Darwin, Sir Isaac Newton, Alan Turing, William Harvey, Stephen Hawking, Tilda Swinton and Hugh Laurie. 
University of Cambridge Courses and Programmes
In the year 2023, the Psychology department was ranked 1st for Best UK Universities in The Guardian subject ranking and 2nd best globally in Times Higher Education World University Rankings. The Anthropology and Archaeology department here also proudly take the 3rd position in the QS World University Rankings by Subject for 2023.
Psychological and Behavioral Sciences
The content of this interdisciplinary can be applied into the study of anthropology, archaeology, neuroscience, philosophy and sociology. Students will get to learn from globally-renowned lecturers, researchers as well as external guest speakers who are at the top of their fields. There are the department library and specialist collections of up to 50,000 books and more than 150 periodicals to support the students. The programme is accredited by The British Psychological Society for work in psychology and related fields. Graduates of the programme have landed jobs in reputable companies,  including Edelman, a global communications firm, the Cabinet Office and the Adolescent Mental Health Service.
Medicine
Studying medicine at the University of Cambridge is an intellectually stimulating and professionally challenging opportunity. The university is famous for its industry-leading research quality and the broad connection of head-of-the-field professionals. Medicine students will get to apply the latest research works into their medical education or pursue exhilarating research and project works. Medicine students of Cambridge can expect excellent career prospects thanks to their top-notch communication, clinical, interpersonal and professional skills combined with a broad-based clinical curriculum and primary, community-based and hospital care. The course is accredited by the General Medical Council (GMC), giving graduates the right to a licence to practise, giving that they can prove their ability to the GMC. A UK Foundation Programme and Medical Licensing Assessment (MLA) is coming soon for final-year students of the Medical School from the 2024-2025 school year onwards. Students can also choose a more academic route with the MB/PhD programme of three-year research between years 4 and 5. There are also NHS bursaries available for eligible students of Year 5 in the Standard Course or year 2 in the Graduate Course. 
Engineering
Studying engineering at Cambridge exposes students to a wide variety of engineering fundamentals necessary analytical, design and computing skills before providing in-depth training in a chosen speciality. The faculty consistently produces top-of-the-field research throughout the years, thanks to its strong links with industry and cutting-edge facilities. Engineering students can access the Dyson Centre for Engineering Design, modern computer-controlled machinery and the Design and Project Office with more than 80 workstations. Besides a massive library of 30,000 books and 350 journals, the department also offers a Language Programme for Engineers with specialised French, German, Spanish, Chinese, and Japanese courses. Language-course students can also expect optional oversea trips to France or Singapore as part of the course. The career prospects for this course are also excellent, with 96% of the graduates in employment or further study 15 months after graduation (Graduate Outcomes survey for graduates between August 2018 and July 2019). Some of the popular positions that their graduates hold are Graduate RF Systems Engineer at Airbus Defence and Space, Analyst at Goldman Sachs and Manufacturing Engineer at Rolls-Royce PLC.

Archaeology
The archaeology course at the University of Cambridge offers access to a diverse research community guided by world-leading researchers. Students will get to choose one or two subjects from the following majors – Archaeology, Assyriology, Biological Anthropology and Egyptology – to learn about the human's past, evolution and ancient civilisations. There are purpose-built Cambridge Archaeology Unit laboratories, dedicated libraries, the Museum of Archaeology and Anthropology as well as the Fitzwilliam Museum, and more to support all research needs. Students will gain transferable skills such as critical thinking, analytical thinking and collaborative skills that could land them prominent placements in places such as the National Trust and Historic England. Possible occupations also vary from the law, advertising, conservation, and health industries, as well as research roles.
University of Cambridge Entry Requirements
Applicants taking A Levels are expected to present at least three full GCE A Levels for entry to undergraduate courses.
University of Cambridge Entry Deadline
In the UK, all university applications (including those submitted by international students like you) go through the Universities and Colleges Admissions Service, more commonly known as UCAS.
Most undergraduate courses will share the same deadline of 15 January of every year. Some courses such as Medicine, Dentistry and Veterinary Sciences and universities such as Oxford and Cambridge have an earlier deadline of 15 October in the year before admission.
For more information about key dates and other UCAS deadlines, take a look at our article UCAS Deadlines 2022.
University of Cambridge Ranking
University of Cambridge Fees
In 2023 league tables, The University of Cambridge ranked second in the UK (Complete University Guide) and second in the world (QS World University Rankings).

Ranked number 4 in the 2023 Shanghai Academic Ranking of World Universities
Ranked number 2 in the Complete University Guide 2023
Ranked number 1 in the Guardian University Guide 2023

Ranked number 2 for research quality in the Complete University Guide 2023

121 affiliates of the University have been awarded the Nobel Prize since 1904

Top 10 in the world for academic reputation, according to QS World University Rankings 2023

Ranked number 3 in the world for teaching, according to THE World University Rankings 2023

93% of respondents of the Graduate Outcomes Survey were in work or further study within 15 months of graduating.

Top 10 universities most often targeted by Britain's leading graduate employers in The Graduate Market 2023.
Undergraduate tuition fees
For overseas students starting in 2022, the annual tuition fees are as follows:
| | | |
| --- | --- | --- |
| Group | Courses | Tuition Fee |
| 1 | Anglo-Saxon, Norse, and Celtic; Archaeology; Asian and Middle Eastern Studies; Classics; Economics; Education; English; History; History and Modern Languages; History and Politics; History of Art; Human, Social, and Political Sciences; Land Economy; Law; Linguistics; Modern and Medieval Languages; Philosophy; Theology, Religion, and Philosophy of Religion | £24,507 |
| 2 | Mathematics | £27,333 |
| 3 | Architecture; Geography; Music | £32,064 |
| 4 | Chemical Engineering; Computer Science; Engineering; Management Studies; Manufacturing Engineering; Natural Sciences; Psychological and Behavioural Sciences | £37,293 |
| 5 | Medical and Veterinary Science (including for this purpose the Second M.B. and Second Vet.M.B. Examinations) | £63,990 |
The fees above are annual fee and fixed throughout the course.

International students taking a year abroad will only pay 50% of the full fee of that year.

International students of Veterinary Medicine course, please refer to your course's specific information for details on the payable fee for Year 3.
College fees
All international students and domestic students who are not on tuition fee support will need to pay an additional annual college fee. It covers all the extra educational, domestic, pastoral services and support that your college will provide. This fee varies from college to college.
Living costs
A student will need to prepare for living costs including accommodation, food, additional course costs/study materials, personal expenses and transport for life in Cambridge. The university has estimated that it costs approximately £12,400 per year in living costs for the academic year of 2023-2024. For detailed breakdowns of the cost, please check the university's international guide.
University of Cambridge Accommodation
Cambridge students live in their college-owned accommocations for the entire course duration. Most students are guaranteed accommodation in a college-owned property for three years. Students do not have to pay rent over breaks unless they stay in Cambridge during those holidays, but must be available to study in the city for the entire duration of their course. Their accommodation options offered by the university are centrally located and within walking or cycling distance to the campus.
Rooms are all single rooms with a shared kitchen and laundry room. Students can access a library and computer suite in their dorm for studying. Every building has its own common room for leisure and entertainment needs. Furthermore, there are also sports, music facilities as well as basic self-catering and dining facilities. Communal dining is also strongly encouraged among the students.
University of Cambridge Facilities
Libraries
The University of Cambridge has more than 100 libraries across all colleges, faculties and departments. Standard course texts and related materials are available at college libraries. On the other hand, specialised collections and electronic resources for particular subjects are stored at faculty and department libraries. The University Library holds more than eight million books, journals and electronic resources with all-location access. 
Museums and Collections
There are nine specialist museums and collections for students and public use. Every student can find something for them here, from course-related exhibits such as dinosaurs and modern arts to fun hobby exhibits such as the camera used by Robert Falcon Scott at the South Pole in 1912. Evolutionary biologists would love observing Charles Darwin's microscope, while history enthusiasts can take a look at the Samurai armour on display, complete with a moustache made of boar's bristles.
Language Centre
To adequately support its diverse student body, the Language Centre provides both taught courses and resources such as books, CDs, foreign films and more to support the learning of more than 180 languages. International students can attend an academic English support programme. Furthermore, should further assistance be required, there is a dedicated Advising Team ready to support. 
Sports
The University of Cambridge has three sports sites around the city. The Sports Centre in West Cambridge is meant for indoor activities with facilities such as a gym, a sports hall, team training rooms, squash and fives courts and a physiotherapy and sports injury clinic. Meanwhile, the Wilberforce Road Sports Ground is designed for outdoor activities with an eight-lane track, three sand-dressed hockey pitches, and associated field events. Last but not least, the Fenner's Cricket and Tennis Ground is tailored for specific sports such as cricket and tennis.
University of Cambridge Student Activities and Clubs
The University of Cambridge's student life is as vibrant as it can be, with over 500 clubs for students to join. Led by eight elected officers, the Cambridge Students' Union (Cambridge SU) makes sure student life in Cambridge is memorable. No group is under-represented, thanks to the seven campaigns within the SU which includes the BME Campaign, Class Act Campaign, Disabled Students' Campaign, Women's Campaign and more. Each college also runs its own students' union, so there are plenty of opportunities for students to raise their voices and run their own election campaign!
Community and charity
Cambridge students are strongly involved in communal and charitable works for local, national, and international organisations alike. While big charities have student society branches in the university, the students also independently operate fundraising events and have raised more than £100,000 annually.
Drama
The University of Cambridge is renowned for its quality drama productions and for being the starting point for its famed alumni such as Emma Thompson and Hugh Laurie. Students can participate in comedies, plays, musicals and original productions. Moreover, different skillsets can be utilised for different roles from set design to stage management, costume, make-up and more. The university offers excellent performing arts facilities, providing all students a place to shine.
Media
Communication students at Cambridge are given all the tools they need to gain experience in their desired careers in journalism, TV, radio, photography and film-making alike.
Politics
Cambridge nurtures an intelectually stimulating environment for political enthusiasts. Students can debate all kinds of topics and even participate by running for election for a position in the university's student union. Students can run campaigns on political issues that they care about both inside and outside the university's community. Some of those on a national level are the Cambridge Defend Education and Cambridge Zero Carbon.
Music
The music scene at Cambridge is lively, with plenty of options from open mics to bands, choirs and orchestras for music lovers of all skill levels. The Faculty of Music offers classes, workshops and musical instruments for students to practise. There are 14 music groups and societies focused on classical and contemporary music performance.
Sports
Sports are also incredibly diverse in Cambridge. With more than 80 sports clubs and societies to choose from, the University of Cambridge makes sure its students are well stimulated both intellectually and physically. There are options from casual badminton to National League hockey, catering to students of all skill levels. Students can compete with each other, other universities in town or even participate on a national level such as the British Universities and Colleges Sport competitions. Cambridge often plays against other universities such as the famous University of Oxford. There are also plenty of fitness classes and personal fitness programmes for fitness buffs.
University of Cambridge Reviews
"Cambridge has certainly lived up to my expectations, but seeing it in brochures versus living here is very different. I really enjoy being around the historical atmosphere and architecture – which I didn't really expect! While there's academic prestige to consider, there're also lots of other things to do – I've found lots of stuff to get involved in!"
"My years here have been the best of my life. I have improved both academically and personally, meeting fantastic friends and learning a subject that I adore. I would not trade this experience for the world."
"There is such amazing teaching quality in both lectures and supervisions that you really do learn your course at an incredibly high level and can push well beyond the fundamentals and into the details of the things you're interested in."
"I love the Economics course here – from history and politics to game theory and econometrics, the course hones both your quantitative and qualitative skill sets. You don't just learn economics but, far more valuably, how to think critically like an economist."
"I think studying at Cambridge is such an assets, both personally and professionally. The reputation of the university will stay with you throughout your career. The teaching is first class – getting three to one weekly teaching in supervisions is unparalleled!"
University of Cambridge Contact
Phone: +44 (0)1223 337733

Official website: https://www.cam.ac.uk/

Address: The Old Schools, Trinity Lane, Cambridge, Cambridgeshire, CB2 1TN, United Kingdom
Apply To University Of Cambridge
We provide free university application assistance and advice. Speak to one of our consultants now!