University Of York Guide: Rankings, Courses, Fees And More
University of York is one of the 24 research-intensive Russell Group universities in the UK. Founded in 1963, the university is based in York – a medieval city once the Viking capital of England, now famous for its chocolate and excellent afternoon tea. The student life in this city is perfect for those who want to enjoy a more quiet, close-knit, and authentic British university life.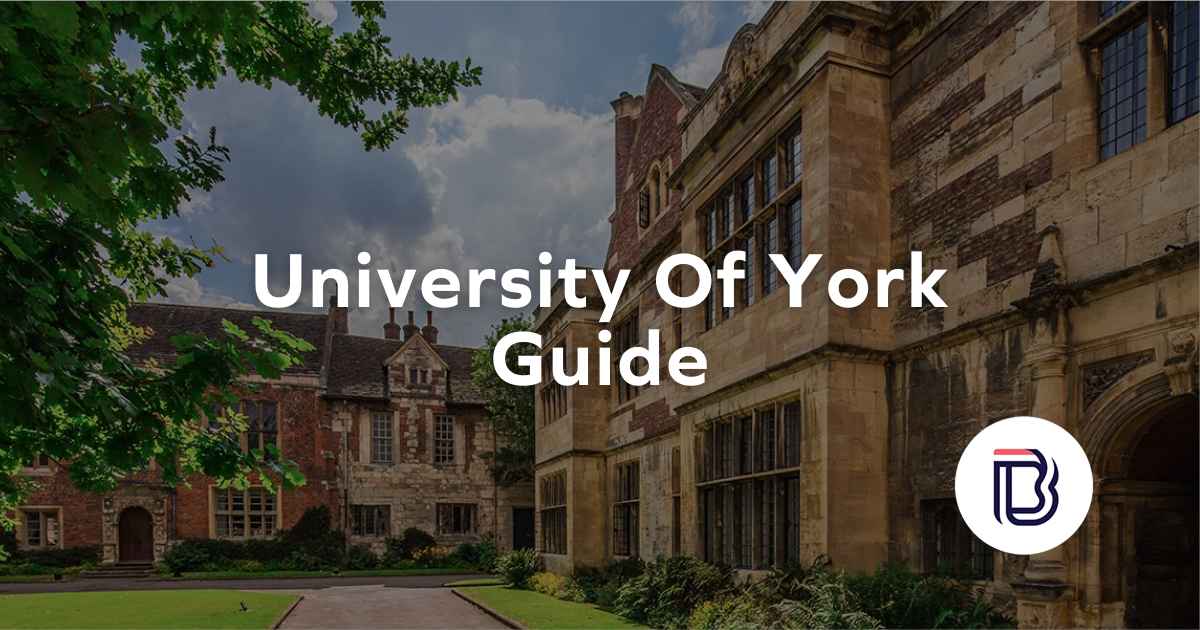 University of York Overview
University of York has nine departments, mostly in Arts and Humanities. This is also its strength as it is ranked 72nd in the world for the aforementioned subjects according to the QS World University Rankings 2022. Besides its official programmes, the university also offers a range of Massive Open Online Courses (MOOCs) to everyone who wants to experience a York education and expand their knowledge. 
University of York is a good choice for international students because 93% of its international students have stated that they were satisfied or very satisfied with the teaching of lecturers/supervisors (according to the i-Graduate International Student Barometer Survey in Autumn 2018). A destination of leavers study has found that graduates from the university are highly sought after, with 94% entering work or further study within six months of graduating. 
Some of University of York's most famous alumni include Lord Michael Cashman – a former actor turned member of the House of Lords, politician, and activist, awarded the Commander of The Most Excellent Order of the British Empire (CBE), Dame Carol Propper – Professor of Economics at Imperial College Business School, and Vikram Patel – the Pershing Square Professor of Global Health at Harvard Medical School.
Students at York are provided with many opportunities to experience life abroad. More than 13% of its students participate in study, work or volunteer programmes abroad as part of the Global You programme.

University of York Courses and Programmes
University of York has three subjects ranked among the top 30 in the world according to the QS World University Rankings by Subject. These subjects include: Linguistics, Archaeology, English Language and Literature, and Social Policy and Administration. Some of its top programmes in the UK are Archaeology, Social Policy and Administration, English, and Linguistics.
Meanwhile, the Guardian University Guide 2022 ranked the following four subjects from University of York among the top 10 in the UK for the subject: Forensic Science and Archaeology (4th), Nursing and Midwifery (7th), Psychology (8th) and Film Production and Photography (9th).
The Times and Sunday Times Good University Guide 2022 has also placed six subjects offered by York among the top 10 in the UK: Archaeology and Forensic Studies (4th), Biological Sciences (10th), English (5th), History (9th), Nursing, including Midwifery (7th) and Psychology (9th).
BSc (Hons) Archaeology

York's Archaeology programmes are ranked 4th in the UK by both the Guardian University Guide and Times and Sunday Times Good University Guide and 18th in the world by QS World Rankings. It also scored well for student satisfaction, ranking second in the National Student Survey in 2022. The university also offers a BA (Hons) Archaeology programme. The course is accredited by the Chartered Institute for Archaeologists (CIfA).
BA (Hons) English

In terms of ranking, the programme placed 5th in the UK for the subject according to The Times and Sunday Times Good University Guide 2022, 8th in the UK and 28th in the world for English Language and Literature by QS World Rankings 2022. The university offers a wide range of linguistic periods and genres to focus on, from classic to contemporary literature, creative writing to drama, fiction and poetry and includes works from within the UK and around the world. The department has strong links with the creative industry, offering great optional modules for future writers.
BA (Hons) Social Policy

Social Policy is a strong programme at the University of York. Ranked 6th in the UK and 29th in the world by QS World University Rankings by Subject 2022, this programme will dive into the complexities of making policies to solve social problems domestically and internationally. The core for this programme is the welfare of citizens, so it is suitable for students whose interests lie in social issues such as globalisation and social inequalities, the making of related policies and what more to be done to address these social problems.
University of York Entry Requirements
Applicants taking A Levels are expected to present at least three full GCE A Levels for entry to undergraduate courses.
There are also International Foundation Year courses which are intensive 1.5 or 2-semester programmes designed specifically to provide you with a pathway to undergraduate degree study at the university.
University of York Entry Deadline
In the UK, all university applications (including those submitted by international students like you) go through the Universities and Colleges Admissions Service, more commonly known as UCAS.
Most undergraduate courses will share the same deadline of 31 January of every year. Some courses such as Medicine, Dentistry and Veterinary Sciences and universities such as Oxford and Cambridge have an earlier deadline of 16 October in the year before admission.
For more information about key dates and other UCAS deadlines, take a look at our article UCAS Deadlines 2024.
University of York Ranking
In 2023, the University of York ranked 162nd in the world according to QS World University Rankings and 20th in the UK, according to the Complete University Guide.

Ranked 18

th

in the UK by

The Guardian best UK universities 2022 rankings

, 20

th

in the University League Tables 2023 by

The Complete University Guide

and 19

th

in The Times Good University Guide 2022, with six subjects ranked in the top 10.

Ranked 169

th

in the

Times Higher Education World University Rankings 2022

.

Eight subjects ranked first for overall student satisfaction among the Russell Group universities according to the National Student Survey 2022.

Thirty-nine subjects ranked within the top 10 among the Russell Group.

Ranked 10

th

in the UK for quality of research in the Times Higher Education (THE) ranking of the Research Excellence Framework (REF) 2021. All their programmes are ranked among the top 30 in the UK in the REF, with four departments ranked among the

top five

in the country: Language and Linguistics (1st), Philosophy (2nd), Sociology (4th), and Education (5th).

Ranked within the top 10 universities in the UK and top 100 globally for humanity awards such as SDG 5 Gender Equality (6

th

in the UK, 44

th

in the world) and SDG 11 Sustainable Cities and Communities (10

th

UK, 60

th

world).
Depending on the course type and whether the course is classroom-based or lab-based, tuition fees for the entry year of 2022 for international students at the University of York range from £21,950-26,800 per year for most courses. For Medicine, the fee for international students (including EU) is £38,500 per year.
University of York Accommodation
Students at York can choose between catered or self-catered and ensuite or shared bathroom options for their accommodation. There are accessible rooms and rooms that are suitable for families and couples as well. 
Rent can range from around £100 to £190 per week for single and self-catered rooms. Catered rooms range from about £140 to £200 per week. Rent includes access to shared facilities, WiFi and wired Internet access, utility bills and 24-hour security. 
University of York is among the universities with a college system. Each student will join one of the university's ten college communities that host regular events among them and against other colleges. This fosters a sense of belonging and individuality because each college has its own personality depending on its history, accommodation, layout, location, facilities and the people who live there.
University of York Reviews
Names may be changed to protect anonymity
Mi Chelle – BA English, Malaysia ⭐⭐⭐⭐⭐

"I chose York because I wanted a campus university in an area that was not too rural but was also not a huge bustling city like London or Birmingham. I could not visit the university before making my decision. However, the people I spoke to via email were lovely, supportive, and answered all my questions. Ultimately, York had an environment that appealed to me and a course that I really liked."
Farheen, MSc Social Media and Interactive Technologies, Bangladesh ⭐⭐⭐⭐⭐
"York is cosy and quirky. It's not as busy as major cities, which I find really peaceful. It's safe and there's always something to do, from walking the walls to trying out independent cafes and restaurants."
Louisa, BSc Biomedical Sciences, Indonesia ⭐⭐⭐⭐⭐
"York is such a beautiful city and perfect for students. Not only is it one of the safest cities to live in the UK, but it also has so many things to do! You can always expect something to happen during the weekends, whether it be festivals or fairs."
Nicole, BA Education ⭐⭐⭐⭐⭐
"Academics always have interesting discoveries to share from their latest research – this keeps lecturers and seminars exciting and current. They also listen to student feedback and look for ways to constantly improve lecturers. The high quality of teaching has enabled me to develop the ability to think critically and analytically."
Yuqi Liang, LLB Law, China ⭐⭐⭐⭐⭐
"York has such a diverse community and is a truly special place to live and study. Any cultures, backgrounds and ideas are embraced and encouraged. I have created many unforgettable memories here with the lovely, supportive staff and students. Being an International Student Ambassador throughout my university life has definitely been a highlight for me."
University of York Facilities
Each department at the University of York has purpose-built facilities such as the Archaeology Data Service, the Bioscience Technology Facility, the Biorenewables Development Centre, the Centre for Magnetic Resonance, the Centre of Excellence in Mass Spectrometry, the Green Chemistry Centre of Excellence, a £30m media complex for theatre, film, television and interactive media, the York Health Economics Consortium, York JEOL Nanocentre, York Neuroimaging Centre and York Trials Unit. 
Besides the aforementioned facilities, the university also has the York Conferences for meeting and conferences and the York Science Park which is dedicated to start-ups and entrepreneurial efforts.
Library

The library at the University of York offers over a million print books, over 850,000 ebooks, over 250,000 journals, as well as many other comprehensive online resources accessible via campus-wide WiFi access. 
York Sport Village

A centre for active spirits, the York Sport Village has a great range of facilities for the most popular sports:
Eight-lane 25-metre swimming pool

18-metre learner pool

Fully floodlit competition-size outdoor 3G football pitch

Three outdoor floodlit 3G five-a-side pitches

One kilometre floodlit traffic-free outdoor Cycle Circuit

250m Velodrome

Two air-conditioned dance studios

One dedicated spin studio
Part of the York Sport Village is the York Sport Centre which has both indoor and outdoor sports facilities including:
York Sport Arena for badminton, basketball, netball, football and more

Sports hall for badminton, basketball, five-a-side football and volleyball 

Squash courts 

Floodlit artificial hockey and football pitch 

400m athletics track with spectator area 

Floodlit outdoor and indoor tennis and netball courts 

39 acres of grass playing fields suitable for rugby, football, cricket and lacrosse
University of York Student Activities and Clubs
There are more than 200 societies and 60 sports clubs run by and for students. The sports facilities in York Sport Village and York Sport Centre are top-notch and accommodates all sports needs. 
The university has an International Students' Association dedicated to the international student community.
University of York Contact
Apply To University Of York
We provide free university application assistance and advice. Speak to one of our consultants now!