Top UK Online Learning Degrees - Rankings & League Table
Interested in online degrees by UK universities?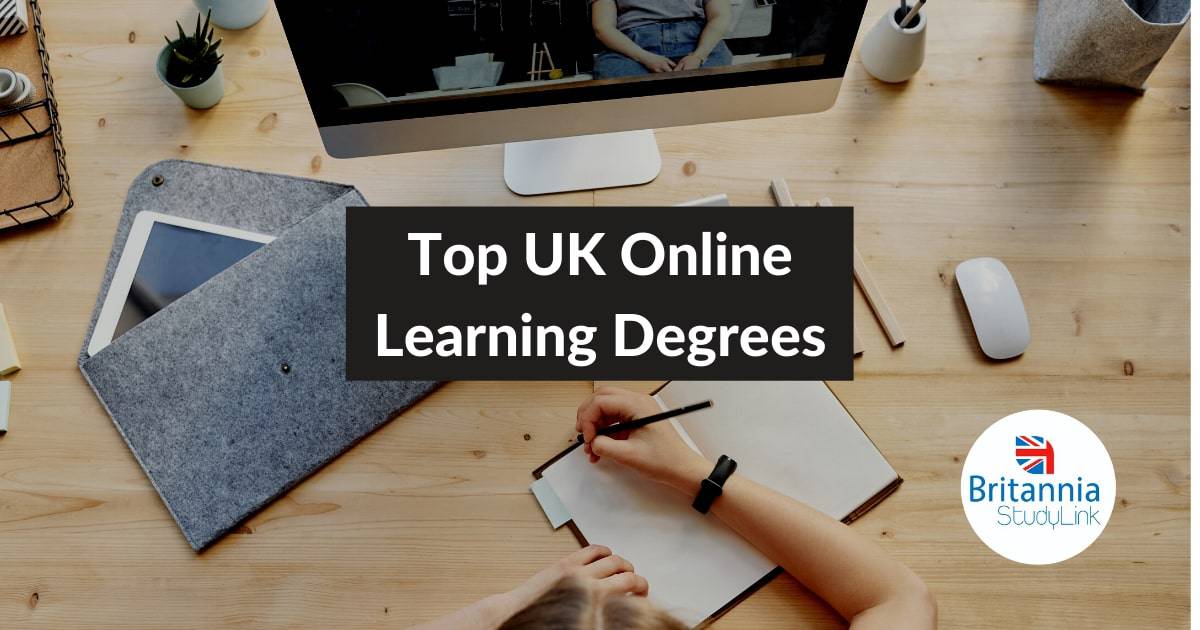 Here's our guide on the top UK online learning degrees. We have curated a list of high-ranking universities that offer distance learning for undergraduate programmes.
UK Universities Ranking League Table - Top Online Learning Universities
The University League Table below shows Bachelor's programmes taught online by reputable UK universities. We've curated this list based on university rankings as well as entry requirements.
| University | Courses Available | Fees (Per Annum) | Study Mode | UK Ranking | TEF rating |
| --- | --- | --- | --- | --- | --- |
| University of Aberdeen | Childhood Practice | £335 (Per module) | Part-time | 26 | N/A |
| Dundee University | Education, Management, Childhood Practice | £4200 (Per module) | Part-time | 31 | Gold |
| University of Surrey | Theatre | £18500 | Part-time | 34 | Gold |
| University of Strathclyde | Chemical Engineering, Childhood Practice | £4500-7650 | Full-time & Part-time | 35 | N/A |
| University of Leicester | Human Resources | £4625 (Per module) | Full-time | 38 | Silver |
| University of Essex (University of Essex Online) | Law, Psychology, Business, Management, Healthcare Management | £4625 | Part-time | 41 | Gold |
| University of Lincoln | Human Resources, Business Management, Logistics, Engineering | £4667 | Part-time | 50 | Gold |
| University of Huddersfield | Nursing | £17400 | Part-time | 53 | Gold |
| Coventry University | Management, International Business | £13900 | Full-time & Part-time | 54 | Gold |
| University of Central Lancashire | Physical Wellbeing, GDL, Astronomy | £12700 | Part-time | 70 | Silver |
| Anglia Ruskin University | Digital Marketing, Management, Health & Social Care | £3525 | Full-time & Part-time | 113 | Silver |
| University of London (With London School of Economics and Political Science) | Business, Management, Data Science, Economics | £2155 | Full-time & Part-time | - | - |
Many other universities offer distance learning for short courses and post-graduate studies, but our league table above is focused on Bachelor's programmes. There are over 600 Bachelor's programmes that are taught online, offered by various UK universities.
There are online Bachelor's programmes for the following disciplines:
Agriculture

Applied Sciences

Art & Design

Business & Management

Computer Science

Education

Engineering

Environmental Studies

Hospitality, Leisure & Sports

Humanities

Journalism & Media

Law

Medicine & Healthcare

Natural Sciences

Social Sciences
How do online degrees work?
Most universities offer their online programmes as a part-time option. Students are given the flexibility to take subjects by the module. It is up to the student how they'd like to schedule these modules, but most programmes will have a minimum and maximum amount of modules to take in a year.
Usually, resources and readings will be made available on an online platform, and lectures will be delivered via video. Similar to on-campus programmes, there may be several types of assessments depending on the module. Once a student meets all the requirements of the programme, they will be graduates and mailed a copy of their degree certificate.
Are online degrees worth it?
Students of online programmes typically pay less in tuition fees and they also save money on travel expenses and living costs. Many students that opt for online courses are willing to forgo the campus experience to obtain a degree from a prestigious UK university while they work or live at home.
You may be missing out on being on-campus, but many students find that it's a good tradeoff for the flexibility and savings.
Are online degrees credible?
In the past, online degrees were a niche market for those studying while working. It also carried a negative stigma due to diploma mills handing out unaccredited degrees for a fee. The courses we have listed in this article are offered by brick-and-mortar universities in the UK that are already known for their on-campus programmes.
The University of Essex Online, for example, offers both online and on-campus programmes. Its online programmes are accredited and reviewed by the Quality Assurance Agency. Some universities such as the University of Edinburgh are offering online postgraduate degrees that are indistinguishable from its on-campus programmes. These online degrees are academically the same as programmes that require you to attend classes on campus.
While we think that the on-campus experience is an important part of studying abroad, we too understand that many students have financial constraints or obligations at home and are searching for alternatives. In this case, we would recommend online courses from these universities as it not only carries the prestige of a UK degree, it also allows you greater flexibility at a lower cost.
Need advice about applying to a UK university? We are here to help. Book a free appointment with us now!
How to Apply to a UK Distance Learning Course?
Step 1: Choose A University
At this time, only a limited number of subjects are available for distance learning at the undergraduate level. The first step is to do some research into online study courses for the subject you're interested in. Here are some things to consider when applying:
Study mode (Part-time or full-time, fully online or blended learning, etc.)

Employability/Graduate prospects

Fees

Entry requirements

University Ranking
Once you have narrowed down the search to your top five universities, the first step is to prepare necessary documents and forms. This includes school leaving certificates, exam results, the UCAS application form and a written Personal Statement, among other documents that may be required.
Step 3: Submit UCAS Application
The application process for UK universities differs from local universities as applications go through an organisation known as UCAS, the Universities and Colleges Admissions Service. UCAS handles all admission applications to UK universities, including those submitted by international candidates like you.
To ensure a better chance of getting accepted, it is important that you prepare all the necessary documents and fill out all forms correctly. We also recommend that you apply for multiple universities simultaneously to ensure that you get your preferred offers. Read our full guide on UCAS here.
More about UCAS
The entire application process might be daunting and lengthy for some, so let us help you. Make a free appointment with us today for professional assistance in submitting applications to your prefered UK universities.
UK University Entry Requirements
Here are some of the common entry requirements and tests a student has to pass before being accepted at a UK university.
English Language Test requirement

– such as IELTS or TOEFL.

Entrance interviews.
Personal statement.

This is a supporting document and part of your application to a UK university. Usually, you will write about what you hope to achieve studying at the course, what you plan to do after graduating and why you are applying for this specific university.
Frequently Asked Questions
Get Free UK University Application Assistance
If you would like a free consultation on any step of the application process, contact us today or come visit us at our office in Mont Kiara, Kuala Lumpur. Book an appointment with us now!