Malvern College UK Guide – Reviews, Rankings, And Fees
Malvern College is an independent co-educational school that is set against the backdrop of exquisite Malvern Hills. Malvern College has extensive academic facilities with fully equipped labs; the co-curricular facilities provided are also impressive with state-of-the-art equipment and playing courts. Students at Malvern comprise more than 72 countries, allowing pupils who attend to expose themselves to a wide range of cultures and backgrounds. Malvern College widely encourages this opportunity for cultural exchange and for each student to embrace their individual cultures.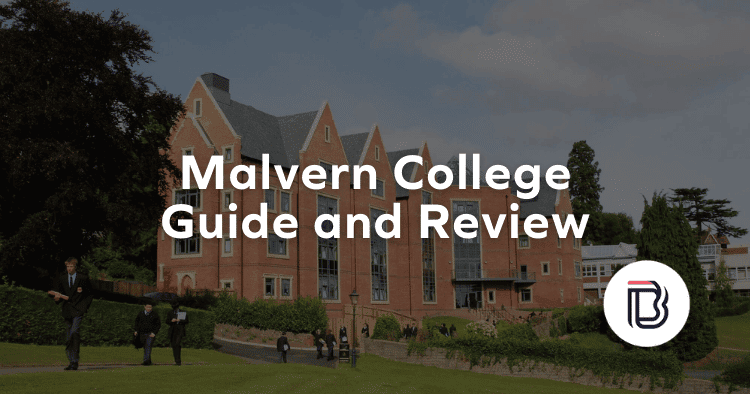 Type of school: Co-educational
Age range: 13-18
Pupils: 640
Boarders: 80%
Fees: £13,900-£14,320
2022 A Level Results: 43% A*/A
2022 GCSE Results: 63% A*/A
2022 IB Results: 37 Point Average
Founded in 1865, the school has a rich and inspiring history. Since its formative years, many facilities have been added and improved for the convenience of its students. The staff and teachers here at Malvern are dedicated to developing young people who can flourish in the global workforce.
Typically, an astonishing 10% or more of leavers receive offers from Oxbridge or US Ivy League universities. With such academic excellence, it's no surprise that between Malvern College and its Prep School, The Downs, they have produced four Nobel Prize winners and many famous alumni such as novelist C. S. Lewis.
Malvern College Courses / Programmes
GCSE
Malvern College has designed a toolkit, the FY Pupil Passport to help pupils through each term by supporting their learning and personal development. 
Every student in Year 9 is required to take up a diverse range of subjects including English, Mathematics, the three sciences, Geography, History, Religious Studies, Design & Technology, Art, Drama, Music, PE, Debate, IT and Life Skills. Adding to that, most pupils choose to learn French, Latin Spanish and German while non-native English speakers will receive lessons in English as an Additional Language.
From there, Year 10 & 11 students have the liberty of selecting their subjects, which includes English, Mathematics, at least two sciences, a modern foreign language or classical language and Life Skills & Ethics.
Pre-Sixth Form (Year 11)
This course was introduced for pupils who are capable of completing the individual GCSE specifications in one year. However, this program does not guarantee a place in the Sixth Form. In this course, pupils generally study a minimum of 6 subjects which includes English, Mathematics, at least 2 sciences, History/Geography and French/Spanish/Latin.
A Level
Students generally go for A Level if they wish to take up Engineering or Medicine. Pupils can pick their own subject combinations, with an exception that Economics and Business cannot be chosen together.
International Baccalaureate Diploma (IB)
Pupils are generally encouraged to choose IB if they wish to further their studies in the US because IB is more suited to the US 'liberal arts' approach. The compulsory subjects for IB are Mathematics and an additional language other than their mother tongue (Spanish or Italian).
Malvern College Application Deadline
| | |
| --- | --- |
| Entry points | Application |
| 13+ | Minimum of two years in advance of the proposed term of entry |
| 14+ | 18 months ahead of the proposed entry |
| 15+ (Pre-Sixth Form) | – |
| 16+ (Sixth Form) | 18 months before the proposed term of entry |
In 2022, Malvern College students managed to achieve the following results:


2022 A Level Results: 43% A*/A
2022 GCSE Results: 63% A*/A
2022 IB Results: 37 Point Average
The school has seen some improvements in its results over the years. Compared to its performance in 2019, the school achieved 27% A*/As at the A Levels and 60% A*/As at the GCSEs. By comparing the school's results in 2019 and 2022, we can see that its latest results have shown a 16% and 3% increase in A*/As at the A Levels and GCSEs respectively.
Malvern College 2022/23 Fees
The following are Malvern College's termly fees for the academic year of 2022/23:
FY (Year 9)

Day Pupil – £9,325

Boarder – £13,900

Remove & 100 (Years 10 & 11)


Day Pupil – £9,480

Boarder – £14,050

Sixth Form (Years 12 &13)

Day Pupil – £9,660

Boarder – £14,320

Registration Fee

Compliance Management Fee (Visa & Immigration)

£200 (Non-refundable)

£500 (entry year), £150 (every year after)

**Acceptance Deposit

UK Residents – £1,050

Overseas – £14,050
* Pupils are eligible for a reduced fee if they attended The Downs Malvern (Prep School) for a minimum of two full years prior to transferring to Malvern College.
** Will be refunded as a deduction from the final account after the pupil has left the school.
Other charges:
Exam fees (GCSEs, A Levels, IB) – ranges between £220 and £920 per subject
Malvern College Entry Requirements
Entry Points 

Requirement(s)

13+

Achievement of an average of 50% in the Common Entrance Examination (taken in June)

or

Malvern College Entrance Test (in Nov/Feb)

14+ 

Dependent upon performance in the Malvern College Entrance Test and at the interview.

15+ (Pre-Sixth Form)

Dependent upon the discretion of the headmaster of Malvern College

16+ (Sixth Form)

Pass the Malvern College entrance test in their chosen subject choices

Dependent on reference from the pupil's current school

Conditional offers:

Minimum of 6 GCSE passes including:

English and Mathematics

Minimum of three grade "5"s

Minimum of three grade "6"s

At least "6"s in the three subjects the pupil chooses to study at A Level/IB Higher Level 

International Entrance

Child's latest school report

Complete registration form via email

Pass the relevant entrance test

An interview via personal visit or Skype
"I think what makes Malvern College unique is the sense of community here. Enrolling here has been the best decision I've ever made. It's changed my life, I have learned so much here (and I don't just mean for the exams!).  I think my classmates would agree with me when I say that Malvern has done so much for all of us."
"I was sure that I wanted to attend Malvern College on the day I visited. I really love seeing the nearby hills and the campus is great, it has everything you need, but most of all I really love the sense of closeness that the students have at Malvern. I can't think of a better place to grow and to forge lasting friendships in."
"You choose all the subjects yourself, which is a plus for me: not only do you save time on unnecessary ones (like biology), but the group is chosen as strong as possible, the guys are all interested in studying a particular subject."
"My favourite thing about Malvern is the atmosphere of camaraderie and strong school spirit, through the glorious campus, with the Malvern spa water on tap can't hurt either."
"Glorious setting on the side of the Malvern Hills. The campus is relatively compact compared to some schools and all departments are within easy reach."
Malvern College Accommodation
Pupils have a designated house and Housem – a housemistress or housemaster. Housems are responsible for preparing each child for life after school. In each House, there are also Assistants and Tutors who are constantly available to answer questions or give advice. In addition, there are also academic tutors, teachers and staff who are willing to help if the pupil faces any difficulties whatsoever. 
Lower School pupils are given a study area and small dormitories, whereas Sixth Form pupils are allocated personal studies or bed studies. There are various activities organized for each House to participate in. For example, producing plays, debate and inter-House sporting events. 
Through this House system, pupils will learn how to take responsibility for others and learn many social skills which will guide them through life after school. There are a total of 11 Houses which run on the same principles and ethos. House allocation is done prior to entry into the school to ensure there is a balanced mix of pupils across all Houses. Overall, each House has a kitchen, a living room, a self-study centre, a recreation room, a library, and laundry.
Malvern College Students' Service & Extra-Curricular Activities
Creative Arts
At Malvern College, pupils are encouraged to celebrate and embrace creativity. Cultural awareness plays an important part in Malvern, which is reflected by the diverse activities provided. There is a wide range of clubs that each child can choose to participate in to express their creativity, either through music such as Chamber Music, Concert Band, Jazz Band, and Orchestra or through other clubs like Cookery, Life Class, Origami and Textiles and Fashion.
Sports
Malvern College provides excellent sports facilities for training and competitions. Malvern College stimulates the sporting ability in pupils of all levels. The Director of Sport inspires each pupil to continually involve themselves in physical activities, even beyond their life at Malvern. 
The Outdoor Pursuits department often run a trip each term, rotating through each club. Here, Malvern College instils the importance of teamwork, appropriate risk-taking, leadership and independence. These trips strengthen the resolve and confidence of each individual at Malvern College. 
Service
There are three students' services in Malvern – Combined Cadet Force (CCF), Community Service and School Council.
Malvern College Contact Information
Official Website:

https://www.malverncollege.org.uk/

Location: College Road, Malvern, Worcestershire, WR14 3DF

Email address: [email protected]

Phone: +44 (0) 1684 581 500
Let us help you join your dream school.
Get a FREE consultation session with us.