Malvern St James Girls' School – Reviews, Rankings And More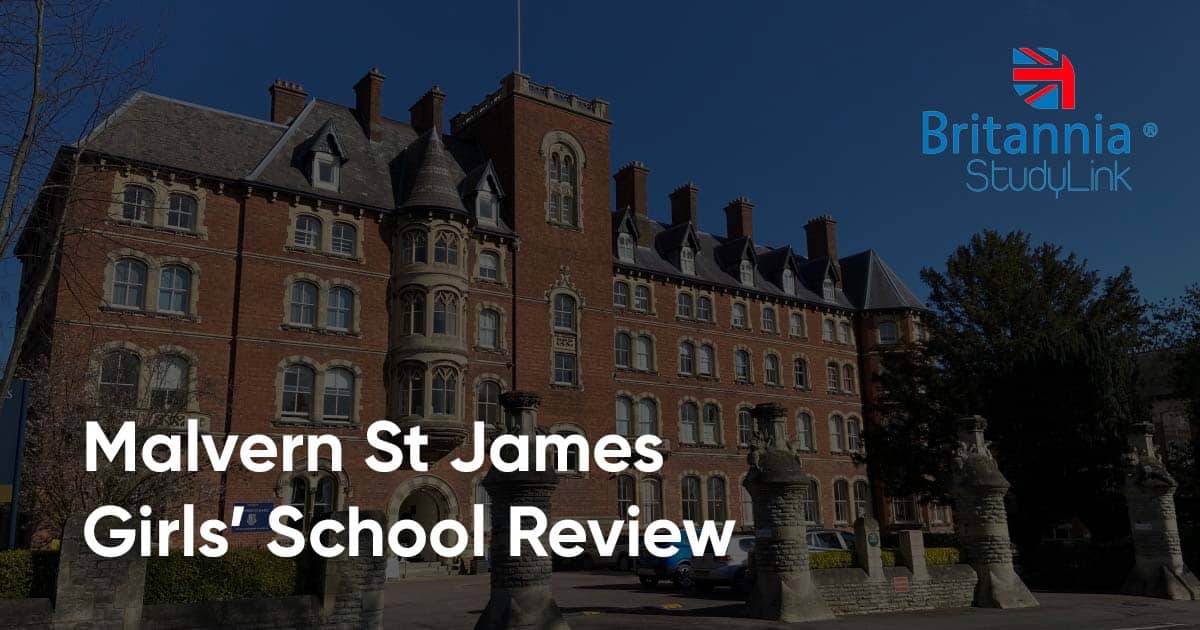 Summary of Malvern St James Girls' School
Type of school: all girls

Age range: 4-18

Pupils: 405

Boarders: 200

Fees: £8,565-14,140 per term

2022 A-Level Results: 

54% A*-A

2022 GCSE Results: 

60% 9-7
Malvern St James Girls' School Overview
Malvern St James is recognised as one of the leading independent schools in Hereford and Worcestershire for A-Levels and GCSEs. The school provides a nurturing environment for their girls to pursue ambitions in academics, sports and more. 
The school tailors its approach to each pupil in both academic and personal development. There are no limits to what a pupil can pursue. Over 50% of graduates from Year 13 at Malvern St James go on to STEM-related degrees and courses.
There is an active careers education scene with lots of input from the alumni. Many of them are in the Debretts/Sunday Times 500 Most Influential Britons list so the girls benefit greatly from the networks. Many top universities have admitted Malvern St James pupils, including Oxbridge, Imperial, Warwick, Bristol, Exeter, Durham and UCL.
Malvern St James Girls' School Courses / Programs
Malvern St James offers GCSE and A-Levels.
The girls at Malvern St James are well-versed in STEM subjects with nearly 90% of Sixth Formers studying one or more STEM subjects and 60% taking Maths at A-Levels. The school's team even got into the final of the UK Maths Challenge in 2016. There are also computer science and DT product design subjects for keen Sixth Formers. 
The girls' interesting EPQs (Extended Project Qualifications) range greatly in topics, from "Training a Racehorse" to "The Drawbacks of Volunteering Abroad", which demonstrates the great breadth of knowledge that students at Malvern St James have.
Malvern St James Girls' School Deadline
There is no exact deadline for Malvern St James. Interested applicants are encouraged to visit the school or join a Taster Day to sample life at the school. Then the Registration documents and fees are to be submitted to start the enrolment process. Depending on the results of their Entrance Examination which takes place in September in the year prior to entry, the girl will be able to reserve a place at Malvern St James school. There can be an earlier assessment in June of the year prior to entry for girls joining Year 7 and 9. 
The following are 2022 Opening Days: 
2022
Saturday 12 February at 10:00 – Pre Prep and Prep Virtual Open Morning 

Saturday 19 February at 10:00 – Whole School Virtual Open Morning 

Friday 11 March at 10:00 – Open Morning* 

Saturday 30 April at 10:00 – Whole School Virtual Open Morning 

Wednesday 25 May at 18:00 – Forces Families Virtual Open Evening

Thursday 23 June at 18:00 – Whole School Virtual Open Evening

Wednesday 17 August at 18:00 – Whole School Virtual Open Evening

* Subject to COVID restrictions.

Malvern St James Girls' School Ranking and Results
The latest published A-Levels and GCSE results by Malvern St. James Girls' School are from 2022. Their 2022 cohort managed to achieve the following results:
2022 A-Level Results: 54% A*-A
2022 GCSE Results: 60% 9-7
Malvern St James Class of 2020 achieved excellent A-Level results with 31% of all grades at A*, 67% at A*-A. The girls who got Oxbridge offers went on to study English, Engineering and Veterinary Medicine. UCL, Bristol, Exeter and Durham are the most popular destinations this year with a great variety of degree choices. 
Meanwhile, GCSE results for 2020 are also impressive with 57% 9-8 or A* grades and 77% of entries scoring 9-7 or A*-A grades. The subjects with the best results are Mathematics with 30% achieving 9s and 62% achieved 9-7. This is followed by English Language with 70% achieving 9-7 and English Literature with 92% achieving 9-7.
Malvern St James Girls' School Fees
Registration fee £200 for non-UK residents.
Acceptance Deposit £800/one term's fee for non-UK residents.
Boarding fees 2022-2023 (Per Term) 
Prep (Year 3-6): 

£8,565
Seniors (Year 7-8): £11,350
Seniors (Year 9-11): £14,140
Sixth Form (Year 12-13): £14,140
New International Boarders joining Sixth Form directly will be charged £14,840 per term.
Exeat Weekend £80 per night. 
For girls studying under the Student Route Visa, an additional £150 per term will be added to the School bill to cover Student Route compliance administration.
Learning Support, Academic Coaching, Extra-Curricular Languages & EAL (English as an Additional Language)
| | |
| --- | --- |
|   | Charge per 30-minute lesson |
| Individual lesson: 1 per week | £32.65 |
| Individual lesson: 2 per week | £27.60 |
| Individual lesson: 3 per week | £26.10 |
| Individual lesson: 4 per week | £23.65 |
| Shared lessons | £23.65 |
Individual Music Tuition
 

Charge per instrument per term

Preparatory Department (Yrs R-6): One

£230.00

Senior (Yr 7-13): One instrument

£310.00

Senior (Yr 7-13): Each additional instrument

£275.00

Instrument hire:

From £35.00

*Charges are based upon 10 x 30-minute lessons per term
Speech and Drama Tuition
 
 

Preparatory Department (Yrs R-6): Group rate

£124.00

Senior (Yr 7-13): Solo Lessons

£220.00

Senior (Yr 7-13): Shared Lessons

£161.00

*Charges are based upon 10 x 30-minute lessons per term
If your daughter misses a lesson, for whatever reason other than the absence of her teacher, you will be charged (this includes examination leave). Her teacher will endeavour to find an alternative time to teach her.
A term's written notice is required (or payment in lieu) if your daughter discontinues any course of tuition, which has been or is normally charged as an additional payment to School Fees.
Discounts
Sibling discount:

10% of the second pupil; 15% for the third pupil (during those years where sisters are at school at the same time)
Old Girls Association:

5% discount
Forces families pay only 10%:  please contact us for more information.
Malvern St James Girls' School Entry Requirements
The Malvern St James school staff will evaluate a pupil's potential via her assessments and a confidential report on both the academic and pastoral aspects from the girl's current school. Then she will get an interview with a Senior member of staff in person or via Skype. 
Pre-Prep and Prep (Reception – Year 6)
The girls will attend a 'Two-Day Taster' with an informal assessment at Malvern St James. Non-UK applicants can attend remotely. Key Stage 2 (ages 7-11 or Years 3-6) applicants will also need an informal interview.
Seniors (Year 7 – Year  10)
Applicants will take a Cognitive Ability Tests (CAT4) and an Oxford Placement Test (for non-native speakers). Each test will take around 45 minutes with breaks in between. The CAT test is used to predict the abilities of the girl, as well as share insights on her potentials and learning style.
Sixth Form (Year 12)
The girl must take written papers in three subjects she intends to study at the Advanced Level. An online Oxford Placement Test is also required for non-native English speakers.
Malvern St James Girl's School Reviews
"Malvern St James is continuing to carve out a niche for itself as being at the forefront of thinking on girls' education… The school feels driven and full of girls who are going to change the world."
"… a gentleness combined with sassy competitiveness"
"… a sense of real engagement in learning"
"… the new head has breathed fresh life into the academic life of the school"
"… tailored, personal, family feel"
"… keeps a sense of small, close-knit community"
"… the sixth form offer is unusually broad and undoubtedly one of the strengths of the school"
"I had the best, most uplifting, supportive & protective foundation possible at Malvern Girls College. Such wise, intelligent, innovative, good staff with integrity. Even the lads at Malvern Boys College were great. Wonderful, transformative, important times. I'm blessed."
"For me, the English Department was the driving force, not only behind my preparation for Oxford, but on a more personal level. Of course, nothing can entirely prepare you for the complete change that is university, but I realised that what Malvern St James does isn't to turn you into the person who you always will be, but to ready you to begin to become that person. Malvern St James had readied me to begin the learning process again.
I was lucky enough to speak not only with teachers, but with Old Girls, governors, and other people associated with Malvern St James to get an idea of what university life would be like. With the constant support I became excited about what to look forward to. There was never a sense of being held back, but there was a constant, unspoken, sense of being ready to move on. Malvern St James never pretended to be the forever, but it knew its importance for the now."
"My daughter has grown into a strong-minded, confident and extremely happy teenager. She adores school. From interesting lessons with dedicated and supportive teachers to the huge variety of extracurricular activities that are available to enhance her day we are thrilled to be part of the Malvern St James community."
"Malvern St James is the most wonderful school. My two daughters are very different but have each received a superb education that is tailored to their specific needs and abilities, combined with outstanding pastoral care. It is a kind school too with a very strong emphasis on compassion, inclusion and innovation. The boarding provision is excellent and I have nothing but praise for the wonderful staff in the boarding houses.
Malvern St James has been an extremely happy experience for us as a family and has given our girls a first-class preparation for university, work and life."
Malvern St James Girls' School Accommodation
Malvern St James offers five Boarding Houses for each specific age group. All pupils share meals together in the newly designed dining hall. The food is fresh, healthy and diverse.
Batsford (Year 3- 7)
Batsford houses all girls, including occasional Flexi-boarders as well as weekly and full-time boarders. The staff team has three people, two are on duty overnight. The house   also has a cat and a dog. 
Hatfield (Year 8- 11)
Hatfield is a hexagonal purpose-designed boarding house. There are interlocking rooms creating Pods with 4 beds and a bathroom comprising a bath, two showers and two sinks. The girls can spend time in large communal areas and surrounding gardens that provide plenty of space for both indoor and outdoor activities. The house is watched over by a Housemistress, Deputy Housemistress and a Graduate Boarding Tutor. 
Mount (Year 8 – 11)
Mount consists of two converted houses joined in the middle. There is a large garden, four pianos, a games room, TV room, computer area, study room, common room and kitchens to serve all the needs of the boarders. There are both free time and organised activities such as baking and Friday film nights for the girls.
Poulton (Year 12)
Year 12 pupils can save their commute time because their boarding house is right on the top two floors of the main school building. The girls have plenty of autonomy to plan their days with staff assistance to balance study and leisure time. Sixth Form girls can use school facilities in the evenings such as the library, Sixth Form Centre, Art rooms, and gyms until late at night. There are also privileges to eat out in town with permission. The girls are taught to be independent and take care of their own living needs such as washing, cooking, managing their finances and time, etc. to best adjust to university life later on.
Greenslade – Year 13
Greenslade is a newly refurbished house to help Year 13 boarders adjusting to the life of university. Each girl will have their own bedroom with a sink and study area. There are also communal areas for girls to spend time with other people. There are fresh pastries, cereals and fruit served for every breakfast or they can go to the main school building for a cooked meal. Similar to Year 12s, the girls will learn to take care of their daily activities themselves such as going out with their friends for entertainment or a meal. There are also communal activities such as the 'Big Sit' for socializing.
Malvern St James Girls' School Student Services and Extracurricular Activities
Pastoral Care
Pastoral care in Malvern St James is first-class and the school has built its community around this. The team is strong and experienced. The girls will have additional pastoral support promptly whenever they need. The school has also put in considerable work to improve communication with the parents.
Extracurricular Activities
Malvern St James offers many interest groups, from a religious literacy group to Model United Nation and even a mock election for the whole school between pupils of Year 9 to develop public speaking skills. There is also a STEM club for all engineering enthusiasts, which shows the school's efforts in challenging the gender imbalances in STEM.
The arts
Drama is flourishing in the school and music is said to be the strongest department at Malvern St James. The girls can join in plenty of performances from choirs, orchestras to ensembles. Malvern St James Girls' School has been appointed as a Trinity Champion Centre 2021/22 by Trinity College London.
Sports
The school nurtures many elite national athletes in hockey, lacrosse, rounders, golf, cricket, fencing, athletics and eventing. Individuals receive plenty of support for competitions. There are also recreational options such as dance, yoga, fencing, strength and conditional sessions and more.
School facilities for sports include a sports hall, two netball courts, a climbing wall, a swimming pool, a multi-purpose activity studio, two squash courts and a fitness suite. There are also outdoor Netball and Tennis courts, three full-size lacrosse pitches, and their own fields for cricket, rounders and athletics.
Malvern St James Girls' School Contact Information
Let us help you join your dream school.
Get a FREE consultation session with us.