University of Edinburgh Guide: Reviews, Rankings, Fees and More
Looking to study at the University of Edinburgh? Here's our full guide on the university with reviews, rankings, fees and more. Our guide includes information about accommodation, facilities, and summaries of the top courses and programmes at the University of Edinburgh.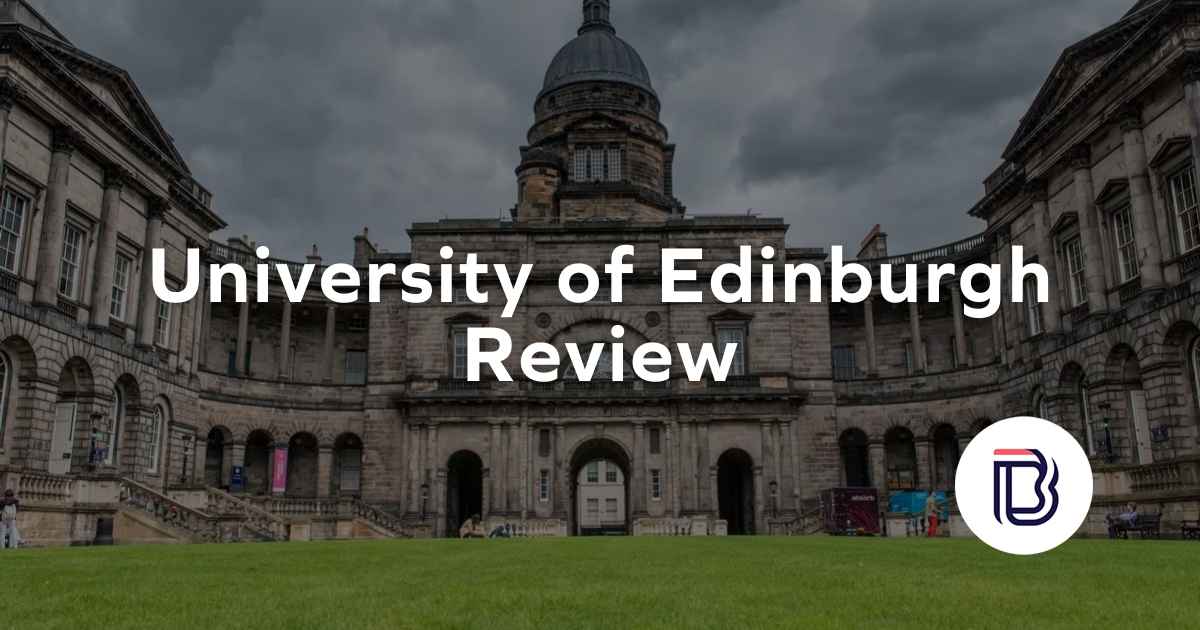 University of Edinburgh Summary
Type of campus: city campus

Student population: 49,065 students, 39% international students (2021-2022)

Tuition Fees: £24,500-£32,200 (Most courses), £49,900 (Medical clinical years)
2023 UK Ranking: 12th (The Complete University Guide)

2023 Global Ranking: 12th (QS Top Universities)

University of Edinburgh Overview
Located in Edinburgh, Scotland's capital city, the University of Edinburgh offers students a world-class education in a historic city that has been rated as one of the most desirable places to live in.
The University of Edinburgh considers itself as a truly global university as it welcomes students from all over the world and over a quarter of its student body consists of students from outside the UK and EU.
The university offers over 500 programmes and teaching standards are top-notch, with nearly 90% of its graduates achieving a 2:1 classification in their degree.
University of Edinburgh Courses and Programmes
The university is known for its programmes in the humanities and medicine, which makes up most of the university's 25 subjects ranked in the top ten in the UK. (Jump to University of Edinburgh Ranking for the full list). Do note that undergraduate Bachelor's degrees in Scotland take four years to complete. 
Study Sports Science at the University of Edinburgh
The University of Edinburgh's Sports Science programmes are some of the university's highest-ranking courses. Edinburgh offers four programmes in Sports Science and entry requirements start from ABB.
Study Education at the University of Edinburgh
The university is ranked third in the UK for Education courses. There are five undergraduate courses in Education, including the International Foundation Programme which offers a different pathway for admission to the university. Entry requirements are ABB and above.
Study Medicine at the University of Edinburgh
Edinburgh offers one programme in Medicine (MB ChB) alongside three other programmes related to the subject. The university's Medical programme is a 6-year course and entry requirements are AAA.
You might also be interested in our article Top UK Universities for Medicine which discusses some of our top recommended universities for the subject.
Study Sociology at the University of Edinburgh
The university has built a name for itself for its top-notch Sociology programmes as it ranks in the top ten in the country for the subject. The University of Edinburgh offers 29 programmes related to sociology and entry requirements are ABB. The 2023/24 tuition fees for most Sociology programmes are £24,500 annually.
Study Law at the University of Edinburgh
The University of Edinburgh ranks 14 in the UK for Law programmes and it offers 17 courses related to the subject. The tuition fee for their LLB programme is £24,500 a year as of 2023/24 and entry requirements are a minimum of ABB. 
Interested in Law degrees? Take a look at our article Top UK Universities for Law which features other UK universities that offer programmes in the subject.
University of Edinburgh's International Foundation Programme
The university's International Foundation Programme is a one-year foundation course that has been tailored to international students. The programme is currently offered by the university's Arts, Humanities and Social Science faculty and it enables students to apply with GCSE-equivalent qualifications. 
You may find the Foundation year to be beneficial as it teaches you academic knowledge specific to your degree and it shortens your pre-university studies by a year or so (compared to a typical 2-year A-Levels programme). There are also a few drawbacks, such as having less flexibility to switch degrees or universities later on. If you're wondering whether the Foundation year is right for you, you should read our article on the subject.
Read more about the University of Edinburgh's International Foundation Programme here.
University of Edinburgh Entry Requirements
A-Levels or Equivalent Entry
There are several pathways to enter the University of Edinburgh as an undergraduate student. The first is via IB, A-Levels, or STPM. Most UK universities will consider STPM to be the equivalent to A Levels. You may apply while waiting for your exam results – the university will make its decision based on your final exam results when they're available or they may decide to give you a conditional offer which may state the minimum grades you have to meet in order to be accepted to a programme.
English proficiency test
While this is technically a visa requirement, you will also need to take an English proficiency test. This visa requirement is also known as a secure English language test (SELT) – read our guide here for more information. 
Subject-Specific Entry Requirements
Depending on the subject of your choice, you may have to take additional tests. At the University of Edinburgh, applications for Medicine require you to take the UCAT, which is an aptitude test. For more information about these subject-specific aptitude tests, do read our article here which goes into more detail.
University of Edinburgh Entry Deadline
In the UK, all university applications (including those submitted by international students like you) go through the Universities and Colleges Admissions Service, more commonly known as UCAS. 
Most undergraduate courses will share the same deadline of 31 January of every year. Some courses such as Medicine, Dentistry and Veterinary Sciences have an earlier deadline of 16 October in the year before admission.
For more information about key dates and other UCAS deadlines, take a look at our article UCAS Deadlines 2024.
University of Edinburgh Ranking
2023 UK Ranking: 12 (The Complete University Guide)

2023 Global Ranking: 12 (QS Top Universities)

How does the University of Edinburgh fare in UK and global rankings? In 2023, the University of Edinburgh ranked Top 10 in the UK for 25 subjects, including:
African & Middle Eastern Studies
Archaeology
Architecture
Art & Design
Asian Studies
Biomedical Sciences
Celtic Studies
Chemistry
Drama, Dance & Cinematics
Education
Electrical & Electronic Engineering
Geology
Linguistics
Medicine
Nursing
Pharmacology & Pharmacy
Philosophy
Physics & Astronomy
Politics
Social Policy
Sports Science
Theology & Religious Studies
Town & Country Planning and Landscape Design
Veterinary Medicine
The latest tuition fees for undergraduate courses at the University of Edinburgh have been set at the following amounts:
£

24,500
£32,200
£49,900 (Medical clinical years)
Fees shown are the latest rates per year for international (non-UK/EU) students.
The international tuition fees for most programmes will be from £24,500 to £32,200 per year, while tuition for Medicine and a few other programmes start from £32,200 and go up to £49,900 for clinical years.
University of Edinburgh Accommodation
The university has residence halls dotted around the city, with the options between catered and self-catered halls. Great news for international students, lease periods for university residence halls are for a full academic year from September to May – there is no need to move out during holiday periods (ie. Spring Break and Christmas)! There are also individual flats and special accommodation available for students with spouses and families.
As of 2022, the annual rent for a single catered rooms with shared bathrooms starts from £7,245 while a single non-catered room starts from £3,882. This price includes insurance, utility bills, data and telephone services for your first year (depending on your contract). There are also twin rooms which are available at a lower cost than the single rooms from £2,915. The University of Edinburgh has a dedicated website for booking accommodation and we have found it to be informational and easy to use – take a look here.
University of Edinburgh Reviews
Here are some student reviews of the University of Edinburgh.
(Names may be changed to keep student anonymity)
"Great university in a lovely city. Super friendly cohort and there were tonnes of opportunities to pursue hobbies on top of your studies. Easy access to explore the rest of Scotland/Europe, and locally there were lots of treks when you need an escape from work!"
"Very supportive and stimulating environment to be in. There is always access to a variety of exciting opportunities to develop your personal and professional skills. Job placements within my course (BSc Social Work) are fantastic and I have learned a lot. There is a good variety of lectures, tutorials, and developing practical skills through job placements. Lots of opportunities to represent students through the student union and those who do it, do it really well. The university provided great support networks and there is always someone you can go to for support."
"This university is rich in history and academic standing. It has a great sense of community and is located in arguably one of the prettiest cities in the UK. The staff are great and have a wide variety of backgrounds and experiences, whilst still remaining very personable. I am very pleased with my experience here, and when challenges arose or I had issues, the university was very quick to find solutions and help me achieve my goals."
"My time in Edinburgh was an unforgettable and thoroughly enjoyable 4 years. The architecture course was very well rounded and academically rigorous. I had a very diverse group of friends on and also outside of the course. A beautiful place to live and an absolutely wonderful chapter of my life."
"UoE is a great place to study. The Uni takes a lot of effort to ensure that students have an easy time navigating academia. Facilities are all quite good and well-managed. There is a lot of flexibility in choosing courses and programs. Loved my time there studying Artificial Intelligence."
University of Edinburgh Facilities
Careers Service
The university's award-winning Careers Service office always has vacancies available for students and they provide all types of support related to job-finding. The university has been ranked among the top 100 in the world for graduate employability.
Libraries
Edinburgh has nine campus libraries. The university's main library is the George Square library which is open 24 hours a day and has over 2000 study spaces. 
Computing services
Computer access is available to students 24 hours a day at the Main Library and in the 30 computer labs around the university. The university has nearly 100% WiFi coverage on campus which ensures students will have easy access to lecture notes, email, and other important course information at any time.
The Advice Place
This is a free informational service run by the university's student association. This is the place for students to go to for any questions about university life. The Advice Place also has specialist academic advisers who can answer questions related to studies and specific subjects.
The Student Counselling Service
The university provides professional counselling services which can help students work through any difficulties they may face in university and learn to manage their situation. The office also has reading material available for loan and it organises self-help workshops from time to time.
University Health Centre
The university's health centre provides comprehensive medical care to all students through the NHS system. In order to access their services, students must first register with the health centre.
Residence Life
Students living in university accommodations will have a Residence Life team whose job is to help them transition from home to university life. 
Study support
Students can approach staff at any time for help to study efficiently. The university also runs peer support systems with student-staffed helpdesks, buddy and mentor programmes, and more.
Chaplaincy Centre
The university's Chaplaincy Centre is made available to students of any religion or belief as a meeting place. 
Edinburgh University Students' Association (EUSA)
All students are automatically made members of the Student's Association. The EUSA is responsible for representing the students' voice and it is their job to ensure all students have a good experience at the university. This is also where you will find hundreds of student clubs and societies to occupy your free time with! (Jump to: University of Edinburgh Student Activities and Clubs)
Edinburgh Global – International office
This is where international students can go for information and support related to their application to the university, visa, and other related concerns. This is also the office that provides support for students going abroad.
Student Disability Service
This office provides students with disabilities, including those with a Specific Learning Difficulty, with the learning environment and accommodations they need so that they're not at a disadvantage. This service can also help students find support assistants and make recommendations for specific exam arrangements. The university also has a good range of resident halls that are accessible.
Childcare
The university offers childcare services for children up to the age of 5 in the Arcadia Nursery. There are also a number of council-approved nurseries in Edinburgh available to students with children.
Student Activities and Clubs
The Edinburgh University Student's Association (EUSA) has over 350 clubs and societies available for students to participate in, so students are bound to find new friends and develop new skills and interests at the University of Edinburgh. There are many types of clubs and societies, such as those about academic interests (subject-specific networking groups), volunteering, faith-based groups, art discussion, sports and outdoor activities, media and broadcasting groups, gaming clubs, and more.
Official Website: https://www.ed.ac.uk/
Address: Old College, South Bridge, Edinburgh EH8 9YL, United Kingdom
Phone: +44 (0)131 650 1000
Apply to the University of Edinburgh
Britannia StudyLink Malaysia can help you apply to the University of Edinburgh, hassle-free. Let us worry about the documents and application deadlines! Simply contact us now and one of our experienced educational consultants will get in touch with you.