University of the Arts London: Rankings, Reviews And More
The University of the Arts London is Europe's largest higher education institute dedicated to studying fashion, art, design and the performing arts. Over the last 100 years, the University of the Arts London has offered over 100 courses at pre-degree and undergraduate levels in art, design, screen, communication, fashion, media and performing arts. The university is the second-best in the world for Art and Design according to the 2023 QS World University Rankings by subject and has maintained the same ranking 4 years in a row.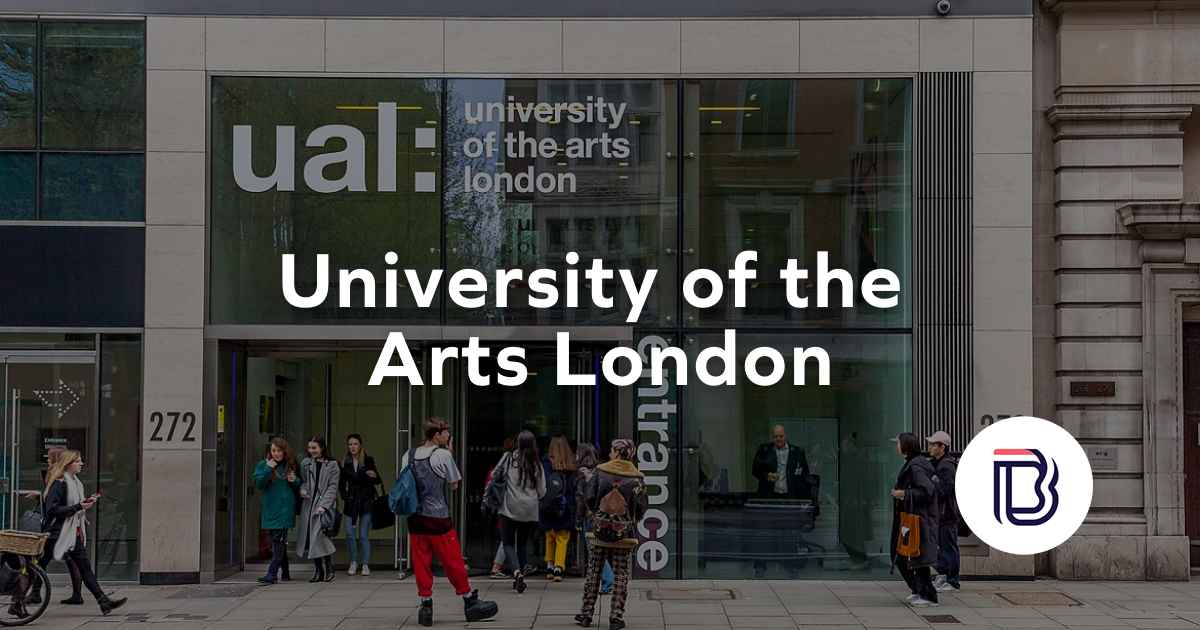 The University Of Arts London Overview
The University consists of 6 renowned Colleges: Camberwell College of Arts (art and design), Central Saint Martins (art, design and performance), Chelsea College of Arts (fine art and design practice), London College of Communication (graphic arts), London College of Fashion (fashion) and Wimbledon College of Arts (stage and screen performance).  Various famous artists have left their marks on the foundation of these colleges. Among them is artist and designer Tom Eckersley, who established the London College of Communication's undergraduate course in graphic design.
Besides the main colleges, the university has also integrated the Creative Computing Institute for computer science and creative practice, the Decolonising Arts Institute for challenging colonial and imperial legacies, the Fashion, Textiles and Technology Institute to improve the sustainability of the fashion and textile industry and the AKO Storytelling Institute for storytelling and social change. 
Each of UAL's colleges has its own approach to teaching. For example, Camberwell College of Arts values individual creativity while still being responsible to society. In comparison, Central Saint Martins believes in learning through making and a radical approach to art and design. On the other hand, Chelsea College of Arts includes all the social, cultural and political life contexts in their work, with a particular influence of globalisation. Meanwhile, The London College of Fashion aims towards an open and inclusive education that combines the past and the present with multidisciplinary approaches from design, science, engineering and technology to reinvent fashion. 
The University of the Arts London provides students with connections to both national and international industries, fostering collaborative opportunities that mirror the actual work dynamics within each field.
Many faculty members within the colleges are actively engaged professionals, contributing to valuable hands-on learning and significantly enhancing post-graduation employability.
As a result, students benefit from genuine work scenarios, enriching experiences, and a wealth of knowledge, culminating in a strong desirability among employers after completing their studies.
Their alumni have become an irreplaceable part of the art, fashion and design world. More than half of the winners and nominees for the Turner Prize – a prestigious annual UK art prize – are alumni of UAL. Moreover, more than half of the recipients of British Designer of the Year also studied at the institution. More than 50 per cent of the fashion designers who had shows at the prestigious London Fashion Week in the autumn/winter of 2016 had studied at UAL, and its alumni have also won awards including the BP Portrait Award; the Jerwood Prize; and the Minerva Medal. (Times)
Some of the University of Arts London's most famous alumni in each field include Matt Clark – Creative Director for United Visual Artists, artists such as Alexander McQueen, Han Chong, Mariko Mori, Rose Finn-Kelcey, Haroon Mirza, Steve McQueen, costume designer Lorna Mugan, production designer Sarah Greenwood, and set designers Simon Costin and Soutra Gilmour.
University of the Arts London Courses and Programmes
This course gives its students exposure to a wide range of artistic expressions, from the traditional media of painting, drawing and sculpture to combined visual media such as film, video, digital media and performance. Artworks from Chelsea College of Arts are distinctively built upon contemporary social issues such as class, race, gender, disability and identity. On top of that, students will get to experiment with new techniques and tailored content to create one's unique style. The school offers dedicated workshops, including ceramics, casting, laser cutting, photography metal and woodwork, and an audio-visual editing suite to best assist its students' artistic expression needs. 
An alternative to the Chealse College of Arts' Fine Art programme is Central Saint Martins' programme in experimental forms of exhibition-making.  In this course, students will focus on a more interdisciplinary working practice in the form of 2D, 3D, 4D or XD arts and the technical inductions to create them. Some recent experimental exhibitions have taken place in well-known public places such as Camden Collective, Archway Tower, British Library, Camden Arts Centre, performances within the Tate Turbine Hall and Tate Exchange, Arts Media Islington School and Crumbles Activity Playground.
This course is built upon various skills and knowledge for effective design in a contemporary world. Design and Advertising agencies, along with course tutors, including artists, designers and filmmakers, will walk students through a range of projects, from commercial to experimental, to develop core graphic design skills. The end of projects will be marked with a showcase of work in public events. As a result, students will get plenty of exposure and opportunities to make valuable connections within their desired industry. 
University of the Arts London Entry Requirements
For Malaysian students, most of the Undergraduate Bachelor degree courses will consider:
BBC – ABB from A-levels;

BBB from STPM;

a pass in all subjects in the UEC Senior Middle Level examinations with a minimum of five subjects at B4 or above

ATAR 80.00 or above.
International high school qualifications may also be accepted.
Students who have not met the above requirements can also take the university's Foundation Programmes that lead to the desired undergraduate degrees. For courses that have higher entry requirements and other admissions criteria, please contact us for more information.
University of the Arts London Entry Deadline
In the UK, all university applications (including those submitted by international students like you) go through the Universities and Colleges Admissions Service, more commonly known as UCAS.
Most undergraduate courses will share the same deadline of 31 January of every year. Some courses such as Medicine, Dentistry and Veterinary Sciences and universities such as Oxford and Cambridge have an earlier deadline of 16 October in the year before admission.
For more information about key dates and other UCAS deadlines, take a look at our article UCAS Deadlines 2024.
University of the Arts London Ranking
University of the Arts London Fees
For international students studying in 2023-2024 academic year, the annual tuition fees will be £25,970 with a possibility of up to a 5% increase in the later years of a student's course.
University of the Arts London Accommodation
The University of the Arts London offers 14 residence halls with rooms ranging from twin bedrooms to ensuite studios. Students can expect a price range between £185.50 to £467 per week.
University of the Arts London Reviews
Names may be changed to protect anonymity
 ⭐⭐⭐⭐⭐ Diamond Nuchjalearn – MA Fine Art: Drawing, Camberwell College of Arts
"Studying at UAL, I'm always reminded that this is just one step to becoming a stronger artist in the real world. A highlight of studying at UAL has been the networks I've built. Being able to interact with highly experienced tutors is a crucial part of studying an MA. I'm always exchanging ideas and techniques with other students through seminars and meetings, or even just when I'm working in the studio space, improving my thoughts and the way I work."
⭐⭐⭐⭐⭐ Chayanit Jinnasith – BA (Hons) Textile Design, Chelsea College of Arts
"What's great about studying at UAL is the fact we are allowed to use many of the facilities at the different sites and colleges. As a Chelsea student, I can access the Central Saint Martins library. This has been really helpful for me when I have been doing research for my projects."
⭐⭐⭐⭐⭐ John – BA (Hons) Textile Design, Chelsea College of Arts

"At UAL, you will experience many different aspects of visual arts and design. Choosing your course doesn't mean that you can't develop other artistic disciplines. Photography, film, fashion design, pattern cutting, ceramics, woodwork and metalwork, painting and graphic design have all played an important role in enhancing and developing my textile project."
University of the Arts London Facilities
Stuart Hall Library is the Institute of International Visual Arts (iniva)' special collections library with art and theory publications from Global Majority, African, Asian, Caribbean, Polynesian, Latinx, and Diaspora perspectives. It hosts over 10,000 publications as well as an archive of Black and Asian artists from the UK Black Arts Movement.
Central Saint Martins' library offers from mediaeval transcripts to contemporary digital artworks in both online and offline forms.
Each department at the University of the Arts London also offers its own dedicated facilities to assist their students' learning needs best. 
Camberwell College of Arts offers facilities for both traditional craftsmanship and digital technology. These include different types of darkroom, a photographic studio and 3D workshops.
Central Saint Martins boasts a range of specialist workshops with support from professional technicians. Supported fields include 3D materials, printing, digital art, fashion and textiles, performance, media, photography, surface and bio.
Chelsea College of Arts has an extensive range of professional workshops and facilities for example: a range of photography equipment for loan, an audio-visual editing studio, a digital print studio for 2D works,  3D workshops equipped to industry's standards and specialist facilities for textiles students.
Wimbledon College of Arts offers specialist workshops, studios and an on-site professional theatre.
University of the Arts London Student Activities and Clubs
The Students' Union at the University of the Arts London offers numerous societies for students of all backgrounds and interests. For those who love to be active without competition, UAL has the Arts Active programme, where students will socialise and do recreational activities together. There are 28 sports clubs, including peaceful yoga, martial arts like Jiu Jitsu, classy equestrian, and exotic pole dance fitness. For those students who want to take a serious sporting career, there is also the Elite Athlete programme that assists students in national and international competitions.
University of the Arts London Contact
Apply To Lancaster University
We provide free university application assistance and advice. Speak to one of our consultants now!