Dulwich College Guide: Reviews Rankings, Fees and More
Dulwich College is an all-boys school that has made international diversity and inclusivity a big part of their school community. Set on a vast green pitch, Dulwich College is an eye-catching landmark in South London. Boarding students at Dulwich come from all over the world, such as China, Hong Kong and Eastern Europe. The environment allows the boys in Dulwich to mix around with people of different races without prejudice. In our guide below, we cover everything you need to know from reviews and rankings to fees and more.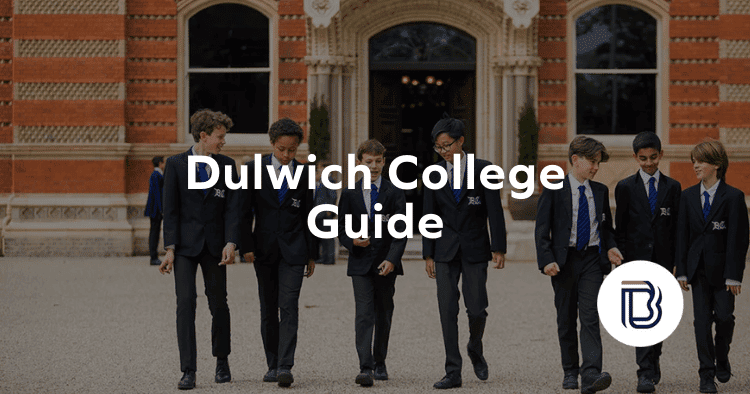 Type of school: Boys
Age range: 11-18
Pupils: 1,401; sixth formers: 474
Fees: Day £24,693; Boarding £48,324 – £51,546 pa
2023 A Level Results:

64.8

% A*/A
2023 GCSE Results:

88%

 A*/A
Academics are extremely valued in Dulwich. The boys at Dulwich are fortunate to have fully-equipped facilities in the college. These facilities include a 240-seat auditorium, 5 IT suites, 18 glassy science labs along with a landscaped recreational and thinking space. At Dulwich, students are encouraged to think critically. That is why Critical Thinking is a compulsory subject in the Dulwich curriculum. 
Dulwich places great care into the future of the pupils. The A Level Plus block programme was created specifically for those who are taking A Levels. This programme helps students dive deeper into the subjects that they are taking by inviting various speakers from universities to give workshops. A Level students are also allowed to take up complementary subjects that will aid them in their careers through this programme.
Dulwich College Courses/Programmes
Shell (Year 9)
The Year 9 boys learn from a broad-based curriculum which consists of 14 compulsory subjects: Mathematics, the three sciences, English, HIstory, Geography, Religion & Theology, Design & Technology, Music, Drama, Art, Wellbeing and PE. Students have to choose a Foreign Language to learn from 5 choices: Latin, German, Spanish, French or Chinese.
GCSE (Year 10)
Every child is required to take up English Language, English Literature, Mathematics, the three sciences and a choice of French or Spanish. Each student has to choose another 3 more additional subjects based on their interest. In total, all boys sit for either 9 or 10 subjects for GCSEs. 
A Level (Year 12)
Every student has to study three subjects for A Levels, provided they wish to study Further Mathematics as a fourth subject. All the boys will take part in the Liberal Studies programme which is held in conjunction with James Allen's Girls' School. This programme aims to develop a broader knowledge for the boys and to aid in their preparation for life after school. Another programme Dulwich has is the A Level Plus block which allows the boys to take courses that complement their subject choices. This grants them a deeper knowledge about the subjects that they are learning.
Dulwich College 2023 Ranking
Dulwich College 2022/2023 GCSE Results
In 2023, Dulwich College achieved 88% 9-7. In 2022, Dulwich College's GCSE students managed to achieve an outstanding 93% A*/As. Dulwich College decided not to publish its 2020-2021 Teacher-Assessed Grades results. Its previously published results were from 2019, where Dulwich College's GCSE students managed to achieve 83.9% 9-7. This means that the school has seen over a 10% increase in A*/A grades between 2019 and 2022.
Dulwich College 2022/2023 A Level Results
Dulwich College performed well at the 2022 A Levels, with an achievement of 81.8% A*-As. This is a significant improvement from their previously published results in 2019 of 63.4% A*-As. In 2023, Dulwich College achieved 64.8% A*-A. 
Dulwich College decided not to publish its 2020-2021 results due to the disruptions from the pandemic. 
Dulwich College Entry Requirements
Entry Points 

Requirement(s)

13+ (Year 9)

Written papers in English, Mathematics, Verbal & Non-Verbal Reasoning 

Interview

Report from the Head of the applicant's current school

16+ (Year 12)

Entrance examinations (Based on the subjects that applicants will study for A Levels)

Non-native speakers are required to take the IELTS test (minimum level 6)

Interview

For candidates who took GCSEs:

14 points minimum requirement ( Grades 8 and 9 = 3 points, Grade 7 = 2 points, Grade 6 = 1 point)

Overseas students

Entrance examinations are to be taken in the candidate's respective country

Those who want to take the exam in the college itself will have to fill up a registration form
Dulwich College Application Deadline
Parents have to register by September of the candidate's entry year. Each year has a limited amount of space allocated:
Year 9 – 210 students

Year 12 – 250 students
Dulwich College 2023/24 Fees
Dulwich College fees per term for the academic year of 2023/24:
Day pupil

£24,693 per annum

Boarder

Full boarders: £51,546

Weekly boarders: £48,324

Registration Fee (non-refundable)

UK candidates: £160

Oversea candidates: £350

*Acceptance deposit

Day boys: £2100

Boarders: £4200
* Will be refunded following the completion of studies
*** Cost of lunch included for Junior and Lower School.
"Amazing school. Great mix of boys. Excellent pastoral care. The boys are polite and charming. The teaching is excellent."
"I am really impressed by the professionalism of the staff. Things happen, things go wrong but the staff does their utmost to protect the children and address any issues that arise. There is an emphasis on growing boys as well as rounded individuals and academic performance which I think is missing in some of the other top schools. I was a bit worried about snobbery, but according to my son, there is very little of that going on there."
Excellent school. My son is very happy here. I am very pleased that my younger son will go there next year. The school itself is very big but the boys are never lost. There is a vibrant atmosphere and the boys look very happy and confident."
"As a pupil at Dulwich College, I think that the facilities are tremendous and the staff are really friendly. Situations are dealt with fairly."
Dulwich College Accommodation
There are 4 main houses: Old Brew, The Orchard, Blew House and Ivyholme. Most boarders are oversea students who mostly originate from China and Hong Kong. Year 7 to Year 11 boys are required to share study-bedrooms while Upper School boarders will have their personal bedrooms. Each house will have its own leisure facilities and a common room with pool tables and table tennis. 
During weekends, boarders at Dulwich will take various trips to museums, theatre and trying out different cuisines around London. Recreational trips to places such as go-karting, paintballing and go-Ape are also organized. This allows the boys to connect with the outside world even while under the care of the College.
As for the pastoral care in Dulwich, each house will have their respective resident tutors along with some visiting tutors. These tutors help boarders with both academics and their overall wellbeing. There is an on-site medical centre with qualified nurses to ensure that the boys have access to medical advice and care 24/7.
Dulwich College Co-Curricular Activities
Charity
The charity programmes organized by Dulwich shows the commitment and kindness of the boys in the college. Fundraising at Dulwich happens due to the initiative shown by the boys. Dulwich raises an average of £30,000 for good causes. Charity began at home for Dulwich, but now it has expanded to international regions such as Africa and Myanmar. These charity programmes raise the pupils' awareness of the needs of those who are less fortunate and develop a strong sense of social responsibility. 
Combined Cadet Force (CCF)
CCF aims to instil a sense of public service in students. At Dulwich, the contingent is separated into the Army, Navy and RAF. The boys take part in parade evenings and will be taught the training syllabus. CCF is compulsory to every student starting from Year 9. CCF allows students to have many more opportunities than normal students, such as trips and camps in the UK as well as abroad. 
Creative Arts
The Creative Arts Department consists of three aspects, namely Art, Drama and Music. At Dulwich, pupils who take Arts have the chance to experience studio-based learning. Studio-based learning fosters a sense of wonder and curiosity that helps the boys understand and see the world from a different perspective. The Music and Drama department often showcases the talents of the boys in major concerts and various productions. This led to the college being awarded the Independent School of the Year for the Performing Arts award. 
Sports
Sports at Dulwich often consist of forward-thinking games and PE programmes. In order to expose the boys to a range of experience and opportunities, Dulwich hires specialists and coaches to deliver a challenging curriculum. These lessons are designed to keep the boys healthy and improve their knowledge of good training methods.
Dulwich College Contact Information
Let us help you join your dream school.
Get a FREE consultation session with us.