Haileybury School UK: Reviews Rankings, Fees And More
Ranked as one of the top boarding schools in the UK, Haileybury is a 500-acre school with a well-kept campus and state-of-the-art facilities. There is a diverse range of interesting subjects and activities provided for students to choose from.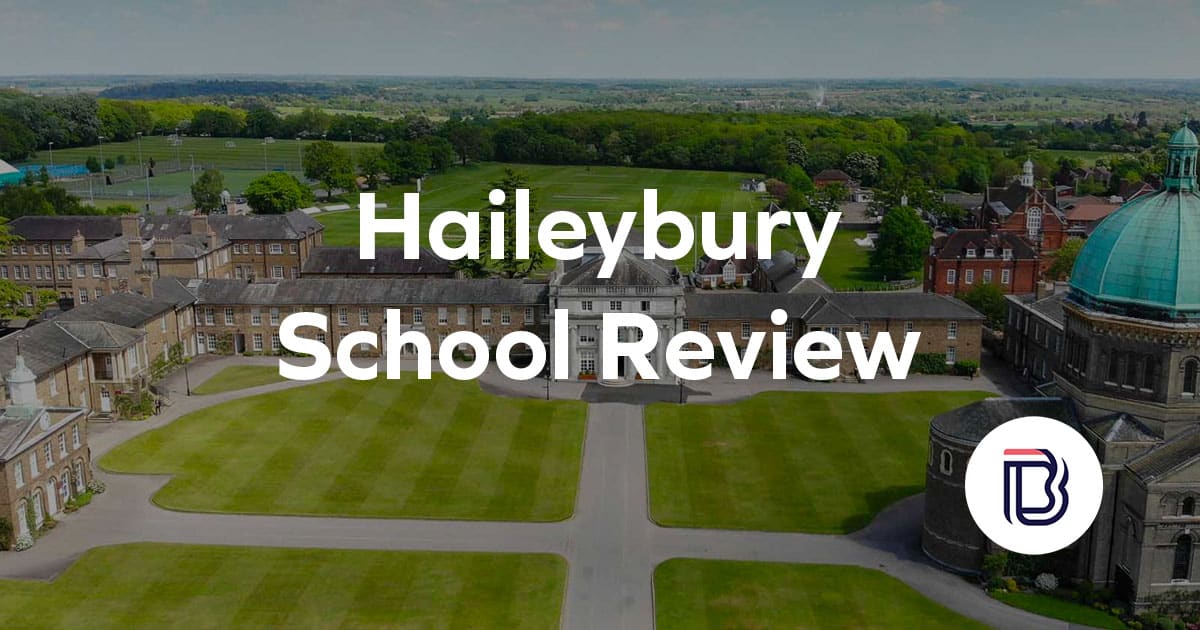 Type of school: Co-educational
Age range: 11-18
Pupils: 885; sixth formers: 308
Fees: Day £21,510 – £32,355; Boarding £28,365 – £44,700 pa
2023 A Level Results: 43.9% A*-A
2023 GCSE Results: 77.4% 9-7
2023 IB Results: 39 Point Average (30% > 40 points)
Much can be said about the school's philosophy to empower each individual to chase their passions and build a great sense of self-confidence. Haileybury constantly supports and encourages students to get involved in different areas of their school life besides academics. As a result, Haileybury has obtained a well-deserved reputation for outstanding sports achievement. Another stimulating point would be the musical talent nurtured in Haileybury, of which some has won the BBC Songs of Praise Choir of the Year award.
Haileybury Courses And Programmes
Lower School Diploma
The compulsory subjects are English, Maths and Science. A series of language and linguistics courses are available to Year 7 and Year 8 students too. In Haileybury, pupils tend to study Latin, French, Spanish, German and Greek. Humanity subjects such as Geography, Theology, Philosophy and History are undertaken as separate subjects. Pupils can choose to study music, drama and art, or even technology subjects such as engineering, robotics and coding at Haileybury.
GCSE
Every child is expected to study Mathematics, English Language, English Literature and three Sciences (Biology, Physics, Chemistry). Other than that, pupils can pick their own subjects that match their future pathway. Most students tend to study a language and a humanity subject such as Geography, History or Religious Studies.
The Global Awareness Project and the Study Skills Module are part of the syllabus for Year 10 students. The Global Awareness Project prepares students for Sixth Form studies while Study Skills Module focuses on revision strategies. 
A Level
Students choose three or four subjects to specialize in with additional complementary electives. In Haileybury, the A-Level curriculum provides students with focused learning through investigative methods.
International Baccalaureate Diploma (IB)
For pupils who choose IB, they have the freedom of choosing a balanced combination of subjects. Theory of Knowledge, Extended Essay and Creativity as well as Activity and Service is integrated into their curriculum.
In 2023, Haileybury pupils managed to achieve 43.9% A*-A at the A Levels and 77.4% 9-7 at the GCSEs. The 2023 IB cohort managed to achieve an average of almost 39 points. In our A-levels league table, Haileybury ranked 119.

In 2022, Haileybury pupils managed to achieve 70% A*-A at the A Levels and 77% 9-7 at the GCSEs. Haileybury also offers an IB programme, in which students of the 2022 cohort managed to achieve an average of 38 points. This put Haileybury rank compared to other A Level and GCSE schools are at 69th and 75th respectively.
Haileybury Entry Requirements
The following are Haileybury School's entry requirements as of 2023.
Entry Point 

Requirement(s)

11+

Pass the entrance test (Mathematics, English, online Verbal & Non-Verbal Reasoning Assessment)

13+ (Remove)

Pass the entrance exam (Mathematics, English, online Verbal & Non-Verbal Reasoning Assessment)

Successful interview at Haileybury

Satisfactory report and reference from the child's current school

14+

(Dependent upon availability)

Pass the School's entrance exam (Mathematics, English, online Verbal & Non-Verbal Reasoning Assessment)

Adequate report and reference from the applicant's current school

Interview at Haileybury

16+ (Sixth Form)

Satisfactory previous school report (Minimum six GCSE Level 6's)

Pass the Sixth Form Admissions Assessments

Interview with senior staff

Verbal & Non-Verbal Reasoning tests/EAL test(non-native English speakers)

Non-EEA candidates:

On-site interview

Entrance test can be taken at current school/offices of the British Council
Haileybury Application Deadline
| | |
| --- | --- |
| Entry points | Application Deadline |
| 11+ | Before the November of the child's Year 6 |
| 13+ | Before the January of the candidate's Year 7 |
| 14+  | Before the January prior to entry |
| 16+ (Sixth Form) | Before the November of the year prior to entry |
The following are Haileybury School's termly fees for the academic year of 2023/24.
Lower School (Year 7 & 8)

*Day Pupil – £7,170

Boarder – £9,455

Senior

*Day Pupil – £10,785

Boarder – £14,900

Registration Fee

£100 (Non-refundable)

Acceptance Deposit

England and Wales residents – £3,000 (Non-refundable)

Others – One term's fee
* £55 per night for overnight stays
Other charges:
House Subs (£15 per term)

Additional classes such as music classes, dance lessons etc
"The teachers are nice and willing to help students with anything and the students here are welcoming. It has a great sense of community. All this plays a role in achieving brilliant results. The breadth of extracurricular activities students can do here is amazing."
"My children attended this school from Junior School to Year 12. The staff have always been supportive of both my children. The younger one is not as academic as the eldest but has still achieved wonderful VCE scores and was presented with many opportunities transitioning into his adult life. Highly recommended. Teachers are fabulous!"
"Haileybury is an excellent school that I have been attending for a couple of years now. There are SO many opportunities you get! The teachers are really good as they respond to your emails quickly, always try to help you out, etc. Because there are small class numbers, you are able to form close bonds with everyone. Haileybury always celebrates everyone's achievements, whether it is academic, sport, art, drama, etc."
"An amazingly professional school committed to educational excellence and care for students. Every student matters everyday and you can see this in every interaction."
"Haileybury has certainly stood the test of time. It's an excellent school and I think the atmosphere here is great. There's this really encouraging, positive energy here in general, plus the classes are small, so you quickly bond with your classmates. I've made many friends from here and I've really missed being at Haileybury."

Each House is centred around Haileybury's pastoral care team. The Housemistress or Housemaster of each house is responsible for getting to know the pupils well. This helps them with their job to ensure the health of each student, be it physically or mentally. Each child is allocated a different house which best suits his/her character. 
The Houses available are:
For girls
Alban's (Supportive)

Allenby (Fun and friendly)

Colvin (Loyalty)

Hailey (Teamwork)

Melvill (Multi-talented)
For boys
Bartle Frere (Successful)

Batten (Fun)

Edmonstone (Positive and happy)

Kipling (Artistic)

Lawrence (Support and camaraderie)

Thomason (Proud and loyal)

Trevelyan (Purposeful)
For the Lower School boarders, Highfield House is the home for children in Year 7 and 8. Highfield provides support and a secure environment to help the pupils adapt and to help them get the best out of Haileybury.
Haileybury Extra-Curricular Activities
Music
Haileybury provides nurturing and inspiration for young musicians who have the interest and talent to create music. Each musician is given opportunities to perform on stage, whether it be as a soloist or as an ensemble. 
Sports
Haileybury has a High-Performance Programme where the Director of Sport invites students to get involved in to benefit from the programme. The programme includes weekly technical and tactical coaching, athletic development sessions and enrichment activities. Haileybury ensures their pupils the highest levels of their sport by having a close relationship with sporting bodies and clubs. Rugby, hockey, cricket, lacrosse and netball are the main sports played in Haileybury. However, should any other sports catch the interest of students, the school offers support to them in and out of school. 
Drama
Every child can get involved in performances through various aspects such as acting, prop-making, film-making, lighting and sound. In Haileybury, students put up four performances each year, giving every pupil a chance to showcase their talents. Haileybury TV is available as part of the school's curriculum, where students learn various aspects of film production.
Haileybury Contact Information
Official Website:

https://www.haileybury.com/

Location: Haileybury, Hertford SG13 7NU

Email address: [email protected]

Phone: 01992 706 200

Let us help you join your dream school.
Get a FREE consultation session with us.