Guildford High School Review: Rankings, Fees And More
The Guildford High School is an academically-selective religious girls day school with two separate buildings for junior and senior schools. The school was founded in 1888 and is governed legally by the United Church Schools Trust, part of United Learning. The school provides an inclusive environment for pupils to grow academically regardless of background. Students there have an impressive track record of scoring above the national average in senior school. They also provide additional help to pupils with special educational needs and/or disabilities to make sure all their pupils have the best environment to develop academically.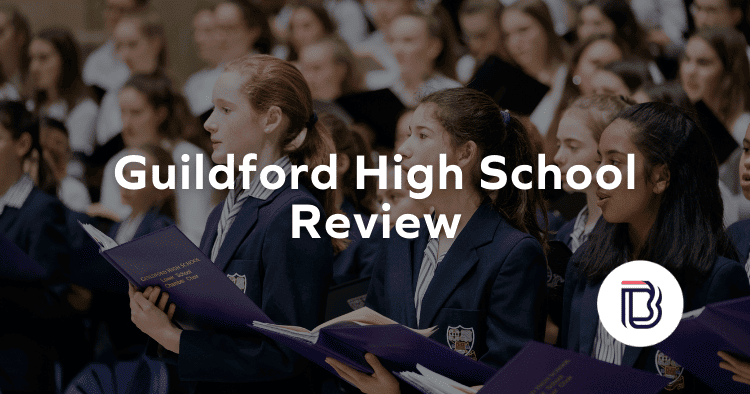 Guildford High School Overview
Guilford aims to provide top-quality education for capable pupils in a happiness-fostering environment. They want their pupils to reach their full potential with creative and collaborative thinking and learning attitude. On top of being intellectually inquisitive, their pupils are expected to be adaptable and responsible. 
As a result of this supportive environment, Guildford pupils display a high level of knowledge, skills and understanding in all subjects, especially in their use of information and communication technology (ICT). On personal development, students develop holistically within their school work and personal lives. They show kindness, good moral values and great manners around school. The emphasis in well-being of the school instils in their pupils a strong understanding of how important a healthy life is.
Guildford High School pupils enter a wide range of reputable universities and future careers. Around one-fifth of their leavers go on to attend Oxbridge after graduation. In particular, in 2022, the school had 13 pupils enter Oxbridge. Most pupils joined other reputable universities such as Exeter, Bristol, Nottingham and Durham. A few others do art foundation courses.  Return alumnae speak highly of how the school prepared them for university to their juniors.
Their pupils have various different interests reflected through their wide range of subject choices in the undergraduate level from sciences, medicine, social sciences, politics, economics, languages and humanities. Among these subjects, medicine is the most popular choice, followed by  arts and sciences.
Guildford High School Courses / Programs
In the junior school, the school provides their own framework for assessment. In the senior school, Guildford High School offers GCSE and A-Levels programmes.
In years 7 to 9, Guildford pupils can choose two languages from the four options: French, German, Spanish, and Latin. The girls have lots of STEM trips to NASA and CERN. There is an interesting option in resistant materials, textiles, and food and nutrition. They take philosophy, psychology, and digital arts on a carousel basis, topped with weekly current affairs lessons and plenty of encouragement for independent thinking on the spot.
Six Formers at Guildford High School have some extra contemporary options such as Current Affairs, Oracy and Philosophy. As pupils progress, they will get the chance to try more interesting subjects such as Greek at GCSE, Psychology, Politics and Economics at A Level.
Guildford High School Application Deadline
The following key dates are for Senior School only.
Key dates for 11+ entry in September 2024

11+ registration deadline

1 November 2023

11+ application deadline for music scholarship

7 November 2023

11+ online CEM testing at GHS (all 11+ applicants)

Sunday 19 November 2023

11+ interview day at GHS (all 11+ applicants)

Friday 5 January 2024

11+ music scholarship auditions

9 January 2024

Key dates for 16+ entry in September 2024

16+ Sixth Form Open Evening

20 September 2023

16+ registration deadline

1 October 2023

16+ application deadline for music scholarship

9 October 2023

16 + entrance assessment

7 November 2023

16+ music scholarship auditions

10 November 2023

Key dates for all other Senior School entry points in September 2024

Registration deadline

1 November 2023

Entrance assessment

5 January 2023
Guildford High School Ranking
The Independent Preparatory School of the decade award winner by The Sunday Times in 2022.

The third best UK private school by A-level results according to the A Level League Table for 2022 (

Source

).

Top ten independent and prep schools list of 2020 by the Sunday Times' 'Parent Power' list, the Senior School was ranked fourth in the South East and the Junior School was ranked third overall (

Source

).
Guildford High School Fees
The following fees include the cost of textbooks and stationery but not extra subjects and public examinations. These fees are for the 2023-2024 academic year. (Source)
Year 3 – Year 6
Termly payment by direct debit: £5,913
Year 7 – Sixth Form
Termly payment by direct debit: £6,949
These fees do not include school lunches, trips and visits. Most of the extracurricular clubs and activities are already included in the fees.
Guildford High School Entry Requirements
For Sixth Form entry


Candidates of Lower Sixth in September 2023 will attend the Sixth Form Assessment Day on Tuesday 8 November 2022. They will sit three, one-hour subject-related papers of choice (from a set of options), a separate general paper and interview with the Headmistress, Head of Sixth Form or other Heads of Department. A report is expected from the candidate's current school prior to the assessment. There is no separate scholarship examination, all candidates will automatically be entered for scholarship.
Guildford entrants are expected to have a minimum of seven grades 9-7, including in English Language and Maths. Sixth Form pupils need grades 9 or 8 in the subjects they are studying. (Source: Annual Admissions Booklet 2022-2023)
Guildford High School Reviews
The Good Schools Guide, 2018 ⭐⭐⭐⭐⭐
"An outstanding and nurturing school that provides a superb education across the board – academically, on the sports field and in the performing arts. This is a place where bright, hard-working girls develop a positive and enquiring approach to life and learning and set off for university full of confidence and enthusiasm."
ISI Inspector, 2021 ⭐⭐⭐⭐⭐
"The personal development of pupils is excellent. The school is a caring and friendly community in which everyone is valued and the pupils do not see differences in each other or if they do, they celebrate the fact."
Which School Advisor website ⭐⭐⭐⭐⭐
"This high achieving single sex school is ideal for those looking for an all-rounder school that puts kindness and pastoral care first. It's a caring and friendly school where girls can feel it's socially acceptable to be clever and work hard. There's not an exam factory environment here, and girls tend to leave with plenty of essential life skills as well as top grades. As a smaller school, there are many opportunities for girls to get all involved in all aspects of school life, without always have to be in the 'A team' for sport or the most musically talented in auditions."
Guildford High School Student Services and Extracurricular Activities
Pastoral Care

The school offers a Well-being Hub with Heads of Year, Form Tutors, nursing team, school doctor and school counsellor to support pupils in all aspects of their school life.
Extracurricular Activities

The school offers over 70 different activities each week from dust to dawn. Besides clubs and In-House activities, pupils visit many places relating to their curriculum to experience hands-on relevant topics in action. The school takes their girls on adventures in the UK and to the other sides of the world such as Cambodia, Zambia and China.
Music, Art, and Drama

Music is a popular choice for pupils of Guildford High School with 80% of girls having individual music lessons. Up to 25 girls each year take GCSE music and up to eight do A Level. There are lots of opportunities to join choirs, orchestras, ensembles and bands. The girls can participate in joint chamber choirs with the boys from the Royal Grammar School and perform at St Paul's Cathedral, Westminster Abbey, Chichester Cathedral and St Mark's Basilica in Venice. There is a 200-seats recital hall, a recording studio and teaching studios to practise in. 
Drama is also highly popular. Years 7 and 8 have a weekly Drama lesson, while year 9 can continue with curriculum Drama lessons. GCSE Drama is a popular choice and some pupils continue onto A level as well. Every year there are in-house-produced pantomimes and a plethora among other performances, including a Shakespeare Festival for years 8 and 9 and drama productions and musicals for all. Pupils can perform at the school's Main Hall, the Drama Hall or Drama Studio. The girls take place in all parts of the production from sound and lightning, set designing, costume designing with the musical support from the music clubs.
Sports

The main sports provided here are lacrosse, netball, gym and swimming, but senior girls have a more extended list to choose from rowing, synchronised swimming, Zumba, yoga to ice skating, squash and golf. The school's sports teams have an excellent record in various championships and tournaments.
The school offers fantastic sports facilities from a sports centre that houses a 25m swimming pool, sports hall, fitness suite; five netball courts, a lacrosse pitch and the neighbouring Stoke Park for cross-country.
Guildford High School's most famous alumni in sports is Emily Appleton, she is now a professional tennis player and a Sky Sports Scholar. The school provided all the support they could, even allowing her to take one of her A levels in Paris to compete in the French Open.
Guildford High School Contact Information
Apply To A Boarding School
We provide free application assistance and advice. Speak to one of our consultants now!