UCAS Deadline 2023 ᐈ Application Dates And Timeline
UCAS Application 2023 Guide And Timeline - What You Need To Know
If you are applying for UK universities via UCAS, you have to plan months ahead to make sure your application is a success. Application deadlines are strict so you have to be sure to meet them in order to ensure that you get into the university of your choice.
For many, this can be a stressful process, especially since getting into university is a huge milestone in a student's life. There's many deadlines to consider and certainly many more forms and documents to fill out!
To make the application process smoother, we've create this UCAS 2023 Application timeline infographic to let you know what are the key dates you have to take note of when applying for a UK university.
The key dates are summarised in the infographic below the video. Be sure to save it to your computer or bookmark this page for future reference!
Paste This Code To Put This Infographic On Your Website
Or Share This Infographic
<a href="https://britannia-study.com.my/uk-universities/ucas-deadline"> &ltimg src="https://britannia-study.com.my/wp-content/uploads/2020/12/UCAS-deadlines-2023.jpg">&lt/a&gt
If you are applying to join the 2023 intake for university, you should start planning as early as 17 May 2022. Starting from this date, you can officially start applying for UK universities via UCAS. 
Take note that if you are applying for most courses in Oxford and Cambridge University, 
you will need to make your application in October the year before entry. That would mean that the
deadline
is
15 October 2022
for entry in 2023.
This date is also the deadline for most courses in any university for medicine, dentistry, and veterinary sciences.
For other universities and courses, make sure you apply before 25 January 2023, as that is the closing date for UCAS applications for the majority of undergraduate courses.
23 February 2023 - UCAS Extra
On this date, UCAS extra opens. Where you're normally given five university choices in a UCAS application, UCAS extra allows you to apply for a 6th university choice. You can use this opportunity to seek additional offers and re-apply to universities throughout the UCAS extra period.
There are a number of deadlines to adhere to once you've received replies from the universities. For example, if you receive all decisions (university offers) by May 2023, you have to reply by June 2022. In general, you have about one month to reply after receiving all offers.
July 2023 - UCAS Clearing Opens
If you didn't get the university or course of your choice, or you didn't meet the conditions for admission, UCAS Clearing allows you to apply for courses at universities that still have places open.
Results Day - A Levels And IB
Once you have received conditional offers from your universities of choice, a crucial moment after is your results day. That is when you'll learn if you have met all conditions of offer with your final results.
But that's not all, you must also sit for additional entrance exams (such as UCAT and BMAT for Medicine, if applicable), pass your English proficiency tests, ace your entrance interviews, and write a good personal statement.
If you manage to complete all of this and you've been accepted, congratulations! You've made it into university!
We hope this resource page has been useful for you. If you need any assistance with applying for UK universities, give us a holla! We provide free UK education consultancy services and we'd love to help you find the best UK universities!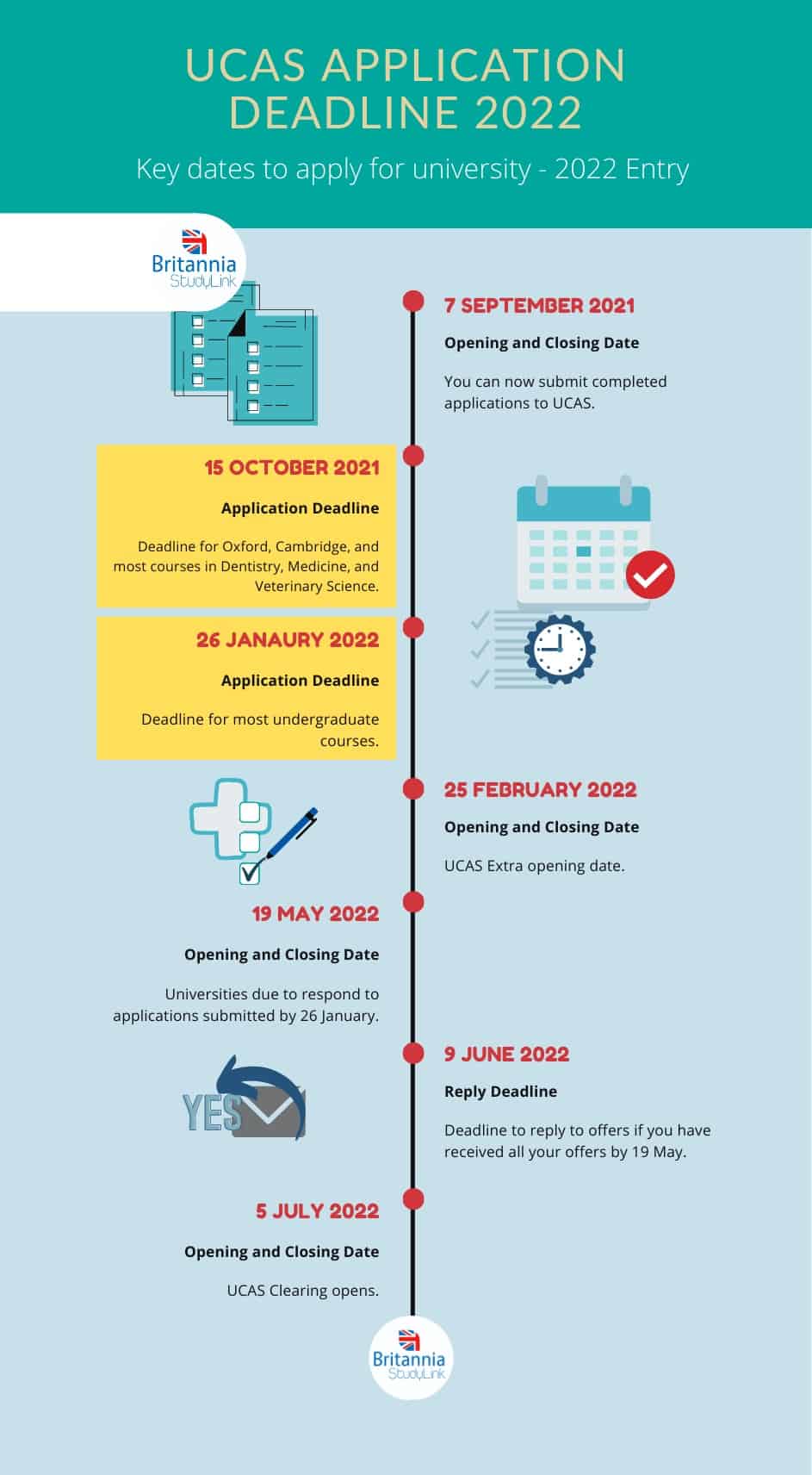 Frequently Asked Questions About UCAS
Let Us Help You Join Your Dream School. Get A FREE Consultation Session From Us.