Top 10 Boys Boarding Schools In The UK (Updated 2023)
Looking to enrol in a Boys Boarding School? There is a wide selection of boys boarding schools in the UK which offer comprehensive study environments for all-boys' learning. A boarding school for boys offers a learning environment where students are able to study in a single sex educational system for your son to achieve his greatest potential.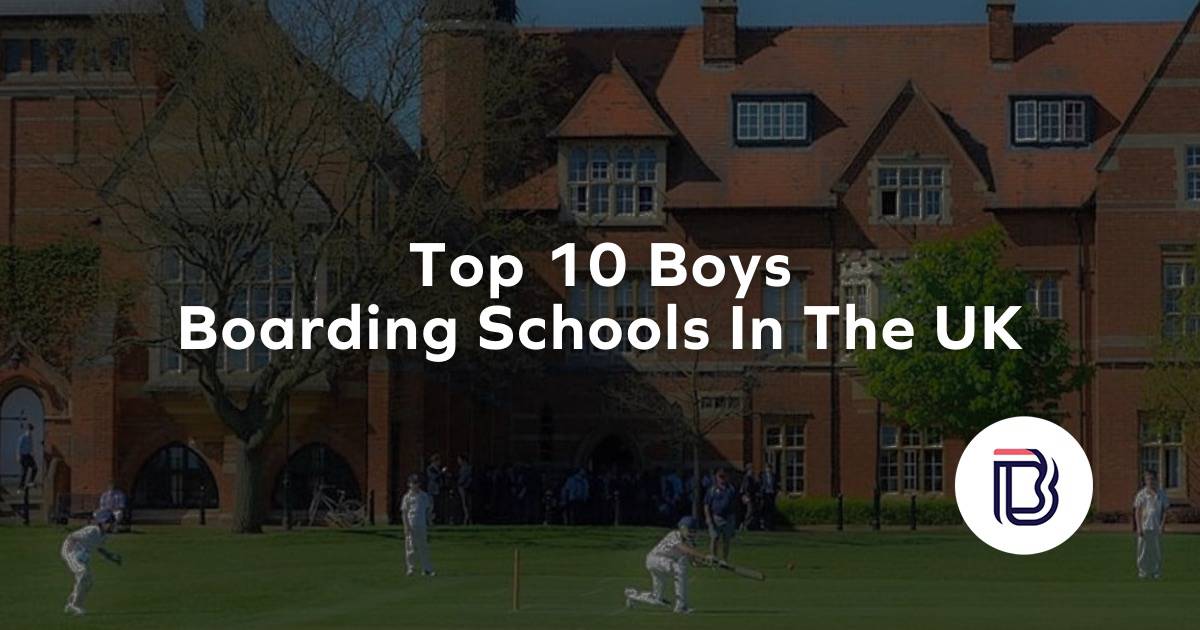 Why Choose A Boys Boarding School In The UK?
A boys' boarding school provides situations for your son to experience a variety of activities, including development of character and behaviour ranging from strong academic achievement, independent learning, creative application of ideas, nurturing physical development through a wide range of individual and cooperative, as well as community activities such as the Combined Cadet Force. 
Boys' boarding schools also offer joint functions with girls' schools to also allow interaction and social skills development.
All Boys Studying Environment
An all-boys' boarding school offers a learning environment for students to be able to socialise, develop their critical thinking and reflect often in order for them to understand themselves and others. A wide selection of activities also enables academic and personal development of students, where academic interest such as debating and science skills and understanding is emphasised.
Benefits of an all-boys boarding school in the UK
A single sex boarding school has the benefits of helping boys learn and develop without distraction. An all-boys school is also a great environment for students who enjoy sports and is a great place to build and understand the camaraderie and notion of brotherhood. This learning environment also challenges boys to work within a system which allows boys to be comfortable in a disciplined arena for growing and maturing.
About UK Boarding School Accommodation
The accommodation offered at a boys' boarding school is that is provides accommodation that is solely catered to boys. Each accommodation is usually divided into different Houses where the students are placed. Accommodation come as single rooms, shared rooms and en-suites. There will be common bathrooms for students in these Houses. Each House will have a shared common room and dining hall where students are able to work and socialise freely in their spare time.
Boarding School Co-curricular Activities
Many boys boarding schools offer a wide selection of fun co-curricular activities that your sons will be able to participate in, and many all-boys' boarding schools in the UK offer great sport programmes. For children who like pursuing individual sporting activities such as archery or golf, to team sports such as rugby and football, with team sports being one of the best ways to learn to work and co-operate with other students. Students will be able to learn in an environment which is free of distraction and social pressures.
Socialising Aspect
The learning environment in an all-boys' boarding school enables boys to learn deeply on how to work with other boys, forming a cohesive education. This distraction free environment will help boys focus on developing their interpersonal skills with the right guidance from their teachers, as well as peers. An all-boys' school also prepares boys with the tools they will be able to utilise whether it is applying to university or working in the real world.
An all-boys school is a great environment for students to learn how to be more responsible and proactive when it comes to real life application. An all-boys school also offers a great place for boys to foster their self-esteem in the right manner and focus on their academic excellence.
Parents deciding to send their children to the UK have many things to consider, with some parents preferring to send their sons to an all-boys boarding school. The learning environment at an all-boys boarding school can be quite different, offering a different experience.
To help you choose the best boys boarding school, we've curated a list of the top boys' boarding schools in the UK for the year 2023. Choices are based on the highest number of A* and A grades achieved for their A Levels.
Top 10 List Of Best Boys' Boarding Schools in the UK
The UK School League Tables are usually a good indicator on how well a boarding school performs. In our previous article we highlighted the Top Co-Ed Boarding Schools in the UK and Top Girls Boarding Schools in the UK. With this list, it is geared more towards the best boarding school for boys in the UK.
At Britannia StudyLink, we help parents find the best study environment suited for their children. Below you can find the list of the top boys boarding schools in the UK. The results are based on the latest A-level league table results and official reported results by the school.
10) Warwick School - A*/A Grade: 66.3%
Warwick School is one of the oldest boys school in the UK and has a long history dating back to the year 914. The school is located at River Avon within Warwick Town. It has plenty of facilities and its new Warwick Hall is dubbed one of the most outstanding and impressive performance venues in the region. The school aims to the equip students with characteristics such as resiliency, compassion, and responsibility to help shape the world in the future.
9) Whitgift School – Croydon - A*/A Grade: 68.2%
Whitgift offers more qualifications than any other British school and is regularly ranked amongst the country's top schools. These qualifications include BTEC, A-level and the International Baccalaureate as well as a bilingual section for native French speakers. Whitgift has also established exchanges, visits and scholarship programmes with more than 25 countries worldwide. We've written a guide on Whitgift school here.
8) Harrow School - A*/A Grade: 75.1%
Founded in 1572, Harrow School revels in its reputation as an all-boys public school. No fewer than seven British prime ministers have been Harrovians, as well as the first prime minister of India, Pandit Nehru. As well as having highly qualified academics on its books to teach students, there is also a super-curriculum in place which focuses on aspects of study that are not formally assessed. These include habitual reading, independent research, reflection and debate. The foundation of the curriculum is the electives system, which allows boys to select an intellectually challenging course that is off-syllabus and taught in small groups. At the centre of these courses are independent learning and problem-solving. Learn more about Harrow school via our guide here.
7) Winchester College - A*/A Grade: 76.3%
Located in Winchester, Hampshire, College is an independent school for boys and has a tradition spanning over 600 years. It is one of the oldest schools in the UK and one of the only four remaining independent schools where all pupils are boarders. The College is situated on extensive grounds spanning 250 acres, and it also oversees much of the surrounding land.
6) Abingdon School - A*/A Grade: 79%
Set in peaceful and charming surroundings close to Albert Park, Abingdon, the independent day and boarding Abingdon School can be found delivering first-class education to boys. With a commitment to a broad education and academic success, the School very much values hard work and dedication to the cause. Oxford is a short 15-20 minutes bus journey away. With day houses and three grand boarding houses (Crescent, Davies' and School), over 130 boys enjoy the unique nature and independence of boarding life at Abingdon.
5) Dulwich College - A*/A Grade: 81.8%
Located in south London with excellent access to Heathrow and Gatwick Airports, Dulwich College is nestled in the vicinity of parks, commons and museums. Originally founded in 1619, Dulwich moved to its 70 acre green field site on Dulwich Common in the 1870s. The College is divided into four Schools: The Junior School, Lower School, Middle School and Upper School. In addition, DUCKS (Dulwich College Kindergarten and Infants' School), enables boys and girls aged from six months to seven years to thrive. Each School has its own Head who is responsible to the Master for that part of the College. You can learn more about Dulwich college in our guide here.
4) Eton College - A*/A Grade: 83.8%
Selection is based on all-round qualities as opposed to solely academic strengths. Almost all boys now take the College's pre-assessment at age 11 (the registration deadline is 10 years and 6 months), which involves a reasoning test, an interview and a school report. Conditional places are offered for entry at 13, subject to qualification through Common Entrance or Eton's King's Scholarship examination. Boys entering from the state sector in Year 9 take an exam based on the National Curriculum. Read our full guide of Eton College here.
3) Radley College - A*/A Grade: 84.9%
With over twenty subjects are on offer, Radley College offers its students interesting subjects such as Mandarin and Politics. Special learning support strategies are given to each student, especially those wishing to receive the best advice and help in gaining entry into Cambridge or Oxford. The school provides a Shell programme of learning, in which boys are taught among other subjects: art, biology, history, design and technology, theology, physics and music. From this the boys choose subjects for GCSE along with their core subjects. Radley is one of the top academic league schools in the UK, whose reputation for academic brilliance is enhanced by the large amount of students who go on to study at Oxbridge institutions.
2) Tonbridge School - A*/A Grade: 85%
Originally founded in 1553, the School moved to its present privileged site in the mid-19th century. At Tonbridge, they take special pride in their renewed chapel and its beauty and calm. Boarding is situated in solid Victorian houses abutting the playing field. Younger boys are accommodated in functional four-bed rooms, whereas older boys have two-bed rooms. The School's 150 acres, situated next to the town's main street, are private, secluded, but at the hub of things at the same time.
1) St. Paul's School London - A*/A Grade: 96%
St Paul's School is an independent school for boys aged 13–18 located by the River Thames, in Barnes, London. It is one of the original nine British "Clarendon" public schools as investigated by the 1861 Clarendon Commission.
Get A Free UK Boarding School Education Consultation Session